Alaska Fish & Wildlife News

March 2019
2019 Alaska Birding Festivals and Wildlife Events

By Riley Woodford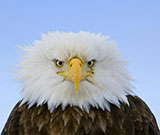 Alaska residents and visitors have spent more than a billion dollars a year in recent years viewing wildlife in Alaska. Birds, bears and whales are highlights, and more than a dozen birding and wildlife festivals in the state celebrate Alaska's charismatic fauna.
While the dates and overviews of festivals and events are current for 2019, in some cases, organizers are still coordinating speakers and program events; and in some cases registration is not yet open. Contact information ... 2019 Wildlife Events Article Continued
---
Falling for Ice-Fishing Hook, Line & Sinker

By Clark Fair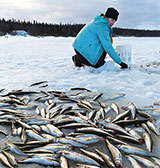 One day, while shivering over a hole in the ice on windy lower Aleknagik Lake, I recalled that when I was very young, my father had been so eager to share his love for ice-fishing that he was willing to make me miserable in order to help me enjoy the experience.
Technically, Dad didn't intend to make me miserable, but he was prepared to allow a modicum of suffering if it meant he could fish a little longer.
My father was not an angling ogre. My suffering usually ... Ice Fishing Article Continued
---