Alaska Fish & Wildlife News

October 2018
Buskin or the Bayou...
What's up with all the Crayfish?
By Kristine Dunker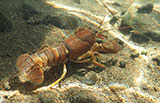 As an invasive species biologist with the Alaska Department of Fish and Game (ADF&G) I had heard reports for years of crayfish in Kodiak's Buskin Lake. Last summer, I finally had the opportunity to visit this lake and thought maybe I'd finally have the chance to catch a glimpse of what I had expected to be a rather elusive non-native critter. What I didn't expect was to be at the lake for literally seconds before finding a crayfish under the very first rock I turned over…and ... Buskin Lake Crayfish Article Continued
---
The Emperor of Geese

By Riley Woodford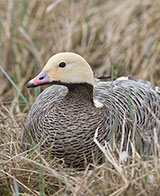 Last fall, for the first time in more than 30 years, Alaskans had the opportunity to hunt an emperor goose. About 500 waterfowl hunters applied for the permit to take a single emperor goose and 128 geese were taken. This year, the opportunity has been extended to non-resident hunters, and 25 nonresident permits were awarded.
"I know a couple of folks that are pretty excited about it," said Jason Schamber. "One is a resident of Nevada, the other is from the Midwest."
Schamber ... Emperor Geese Article Continued
---
Why Non-Native Fish Introductions
Can be a Pain in the Bass
By Kristine Dunker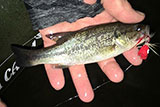 It was a beautiful fall evening in September when a resident of Sand Lake was top-water fishing for rainbows with his favorite surface popper lure. Hit after hit, he was into the rainbows, but one hit suddenly felt a bit different. He reeled up and right away recognized he had something other than a rainbow on his line. Perhaps it was a grayling? That would have been interesting. Sand Lake hadn't been stocked with grayling in years. It was dark outside, and he couldn't quite see what ... Bass in Alaska? Article Continued
---
Fishing for Coho Salmon

By Nancy Sisnyak & Ryan Ragan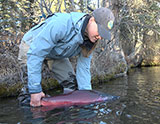 Fall, in Alaska, means fishing for coho (silver) salmon. If you have never fished for coho before, but would like to give it a try, the Alaska Department of Fish and Game has just released two videos highlighting wildly different techniques. If you are closer to the ocean fishing for bright coho, like those found in the Anchorage area, give the video, Slip-Bobber Fishing for Coho Salmon a look. If you are heading to the Interior, then How to Fish for Delta Clearwater River Coho ... Fishing for Coho Article Continued
---