Alaska Fish & Wildlife News

April 2017
Bats in Alaska
Volunteers needed to monitor bats
By Riley Woodford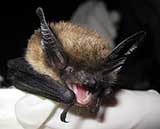 On a pleasant evening in mid-May I watched 1,213 bats emerge from a roost in Juneau. A steady stream of one, two, or three bats flew out every few seconds for a half-hour, between 9:45 and 10:15. I know the exact number because a state wildlife biologist carefully counted them.
With the help of almost 150 volunteers in a half-dozen communities across Southeast Alaska, biologists have learned a great deal about Alaska's bats in the past three years. They've documented the presence ... Bats in Alaska Article Continued
---
In Wild Trust
Larry Aumiller and the McNeil River Story
By Riley Woodford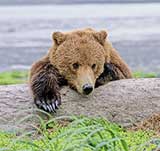 The densest concentration of brown bears on Earth can be found in summer at the McNeil River State Game Sanctuary. Visitors watch and photograph these bears at unbelievably close range, without any barriers between them. This year marks the fiftieth anniversary of the creation of the sanctuary. It also marks the publication of In Wild Trust, the story of this unique place and why it is a success.
Alaska writer and biologist Jeff Fair wrote the book over a ten-year period. It features ... In Wild Trust Article Continued
---
Planning your next family fishing adventure

By Terry Thompson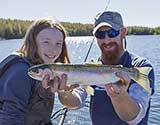 As I watch the snow slowly melt from my yard, emphasis on the slowly, my anticipation to get out fishing grows by the day. Early spring in Alaska, with its increasing sunlight and warming temperatures can only mean one thing… it's time to go fishing!
While most folks take the winter off from their pursuit of fish, or at least slow down on their fishing adventures, staff within the Division of Sport Fish work year-round to ensure everyone has an opportunity to catch fish. Ranging ... Family Fishing Article Continued
---
Alaska Birding Festivals and Wildlife Events 2017

By Riley Woodford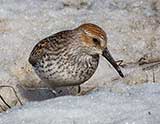 Bears, whales, hawks, and millions of migratory birds will be watched, talked about and celebrated at more than a dozen events in Alaska in 2017.
From the big Gunsight Mountain Hawk Watch weekend April 15th outside Anchorage, to Sitka Whalefest in November, Alaska has a lot of events for bird watchers and wildlife enthusiasts in 2017. During the Gunsight Mountain Hawk Watch event in 2016, more than 3,000 raptors were documented, including more than 1,100 golden eagles and 1,000 Harlan's ... Festivals and Events Article Continued
---
Electric Fences Keep Bears Out

By Elizabeth Manning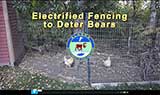 If you keep livestock in bear country, you need an electric fence to keep bears out.
That's really the simplest and best solution.
Unfortunately, the idea of setting up an electric fence can seem daunting to some livestock owners.
Kelly Fuller, manager of Alaska Mill, Feed & Garden Center, noticed that lack of confidence, even among her store employees who sell fence components. To help both her staff and the public, Fuller asked the Alaska Department of Fish and Game ... Electric Fences Article Continued
---