Alaska Fish & Wildlife News

August 2016
Who We Are
Our Hunting Tradition
By Ken Marsh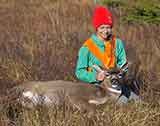 The photograph was, at first glance, startling. It featured bright, sticky blood smeared on the brown cheeks and forehead of an 8- or 9-year-old boy. A rack of reindeer antlers, fuzzy with summer velvet, rested on the tundra nearby while in the background a treeless horizon that could have been the Oshetna country, Anaktuvuk Pass, or the hills surrounding the Kobuk River met a cold, white sky.
But this wasn't Alaska. Looking on was a group of leather-faced men with wrinkles flowing ... Who We are Article Continued
---
Canine Volunteers Help Biologists Monitor Birds

By Rick Merizon
Mack was running over the high alpine grass and crowberries with his nose to the ground. As his search intensified he focused entirely on the scent. After mere seconds Mack froze, dead in his tracks, head swung to the left, nose pointing at the target. Mack and his owner were conducting a high alpine brood survey for ptarmigan, and he had just located one hen willow ptarmigan and her brood of six chicks. Mack is no ordinary ADF&G volunteer, he is one of many pointing dogs being used by the ... Brood Surveys Article Continued
---
Celebrating a Centennial for the Birds

By Elizabeth Manning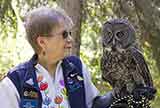 It's a year for the birds – literally.
The year 2016 marks the centennial of a convention between the United States and Great Britain, on behalf of Canada, that laid the groundwork for the protection of migratory birds throughout North America. Two years after that convention, in 1918, the Migratory Bird Treaty Act was signed into law by Congress. The act effectively protected all migratory birds by preventing the market hunting of birds, regulating sport hunting to designated ... Celebrating Birds Article Continued
---
Ten days at the Alcan Border
Trailered watercraft as a Pathway for Invasives
By Tammy Davis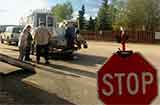 Who doesn't like to get out of Alaska for a quick dose of sunshine in the Lower 48 or somewhere else when our early spring days are short and the snow is still low on the mountains. Then, as the days warm and lengthen, like salmon returning to their natal streams, residents and visitors alike start making their way to Alaska for the beauty, the fish, the wildlife or because it's home.
Early this May, I had the opportunity to glimpse the human migration to Alaska. If you've ... Stopping Invasives Article Continued
---
The Fishing News
The power, vibrancy and beauty of fall fishing
By Ken Marsh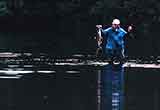 The silvers were so fresh and bright on that mid-August evening that I almost missed seeing them. Their scales reflected the sunlight and made the fish appear translucent, almost invisible. Only their darker, distinctively squared tails against the sandy riverbed gave them away.
Bunched in a tight knot, the salmon held midstream, hugging the bottom. Imagine a shadow the size of a dining room table backed by a dozen or more gently waving tails.
Reaching them with a fly rod wasn't ... The Fishing News Article Continued
---