Alaska Fish & Wildlife News

May 2016
Kodiak Bear Cubs Growing in New Homes

By Riley Woodford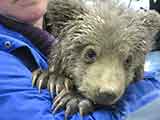 Three Kodiak bear cubs that left Alaska in the fall of 2015 are thriving in the Midwest. A fortunate combination of events made it possible to successfully place the orphaned cubs with zoos in Wisconsin and Ohio.
ADF&G is generally unable to find homes for orphaned animals. Appropriate facilities that meet state and federal requirements rarely have room for new animals, and a brown bear cub is a 30 to 40 year commitment. Fortunately for two of the orphaned Kodiak bear cubs, last year ... Kodiak Cubs Article Continued
---
Breeding Wolverines

By Riley Woodford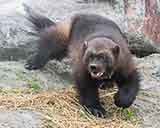 Trained wolverines have the potential to help rescuers find people buried in avalanches, according to animal trainers at the Alaska Wildlife Conservation Center.
The nonprofit facility south of Anchorage wants to breed wolverines and train them as search and rescue animals. An article in March in the Alaska Dispatch generated questions to Fish and Game – not regarding the feasibility of the idea, but regarding possessing and breeding wolverines. The Alaska Department of Fish ... Breeding Wolverines Article Continued
---
Alaska's Private Non-Profit Hatchery Program

By Mark Stopha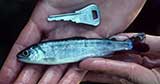 Alaska's modern salmon fisheries enhancement program began in the early 1970s, when state harvests plummeted to record lows. The Alaska Department of Fish and Game took the early lead in salmon production and rehabilitation. Fish ladders were constructed to provide adult salmon access to previously non-utilized spawning and rearing areas. Lakes with waterfall outlets too high for adult salmon to ascend were stocked with salmon fry. Log jams were removed in streams to enable returning ... Hatcheries Article Continued
---
Roller Chopping Aspen Stands for Moose and Grouse

By Riley Woodford
Aspen is a botanical Phoenix, flourishing in the wake of destruction. The lush growth that emerges after an aspen stand is burned or crushed is ideal for moose and grouse, and that benefits moose and grouse hunters.
The state has partnered with the Ruffed Grouse Society on a habitat enhancement project near Tok, and this winter more than 250 acres were treated. It's the second year of a five-year project that aims to treat about 750 acres. Treatment basically means a bulldozer pushes ... Roller Chopping Article Continued
---