Alaska Fish & Wildlife News

February 2014
Moose Luck: A Hunt in One
of the Planet's Last, Best Wilderness Regions
By Ken Marsh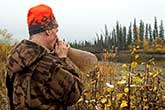 Our hunt hadn't yet started when, 30 miles up the Koyukuk River, the first moose appeared on a sandbar. Riverboat skipper Charlie Green snatched a rifle from behind his seat and shouted for his assistant to take the wheel. Then Charlie opened the cabin's rain-splattered hatch and stepped onto the bow where the deck was cluttered with dry-bags, backpacks and gun cases. Charlie picked his way up front and sat down on a box, then motioned for his assistant to open the throttle. The outboard ... Moose Luck Article Continued
---
What are Draw Hunts?
How They Work and Improving the Odds
By Riley Woodford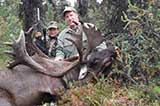 On Feb. 21, 2014, about 32,000 people will receive news that will profoundly shape their 2014 hunting experiences. That's when the drawing hunt results are made available.
Much of Alaska's big game harvest occurs in general season hunts. But like many states, there are hunts where the number of interested hunters exceeds the animals available for harvest. In these cases, Alaska uses a random drawing process to distribute the limited number of hunting permits. This protects ... Draw Hunts Article Continued
---
Who Hunts for Alaska's Big Game?

By Riley Woodford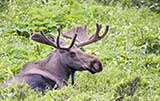 At the end of hunting season, who takes home Alaska's wildlife? Is it residents or out-of-state hunters? The answer depends on the animal – many brown bears head out of state, most moose and caribou are eaten by Alaskans.
Alaska is home to almost a million caribou and close to 200,000 moose. In 2012, Alaskans took home 91 percent of the 6,931 total moose harvested. About 6,150 moose were harvested by Alaskans and 630 by nonresident hunters.
Nonresident hunters harvested ... Who Hunts Alaska? Article Continued
---
Documenting the Harvest of Alaska's Wild Food:
ADF&G's Division of Subsistence
By Lisa J. Slayton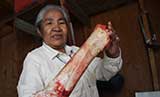 This is the second installment of a two-part article concerning the responsibilities and services of the ADF&G Division of Subsistence. In the first installment we learned that the mission of the Division of Subsistence is to scientifically quantify, evaluate, and report information about customary and traditional uses of Alaska's fish and wildlife resources. Our mission statement rests on two core services:
Research, quantify, and provide the resulting information ... Subsistence Article Continued
---
Trophy Fish Program

By Dennis Musgraves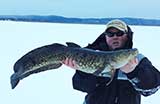 Catching a trophy size fish in Alaska is a thrilling milestone for any sport fishing angler. The excitement of reeling in and landing an enormous fish is overwhelming satisfying; however it's no easy task. I know from firsthand experience by spending countless days on the water every year, making thousands of cast, and traveling hundreds of miles around Alaska fishing for an elusive lunker fish. The scarcity and rarity of landing a monster size fish is what makes the achievement so sweet. ... Trophy Fish Program Article Continued
---
Applications for McNeil River Bear
Viewing Permits Due March 1
By ADF&G staff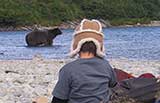 The application deadline for lottery permits to visit Alaska's premier brown bear viewing site at McNeil River State Game Sanctuary is fast approaching. Online applications must be submitted by midnight on March 1, or mailed and received by the Alaska Department of Fish and Game by March 1.
Online applications and printable application forms are available at www.mcneilriver.adfg.alaska.gov through the "Permits" tab and "Viewing Permits" link. More information ... McNeil Bear Viewing Article Continued
---