Alaska Fish & Wildlife News

June 2013
Anticipating Field Season in Alaska
Confessions of a Salmon Ambassador
By Tess Quinn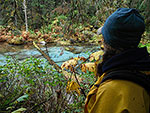 The familiar cocktail of anxious excitement and nervous reservation tap-dances through my gut. It's the distraction that makes me stir my coffee long after the sugar has dissolved and the cream has blended; the quiet commotion that finds me staring through the maps on my computer screen; the long-awaited disturbance that hiccups the monotony of winter's report writing. It is field season.
Summer people buzz about the seasonal jobs they have taken. Some folks will migrate south at the end ... Alaska Field Season Article Continued
---
Noose Carpets and Collaring Ptarmigan
Research, Surveys and the Small Game Program
By Rick Merizon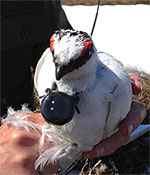 Taking the small, clear monofilament nooses off the feisty male willow ptarmigan's toes I was both surprised and pleased the test worked. We hoped to capture 20 to 25 birds over the coming week and here we had a bird in hand and a capture technique that showed real promise.
We were testing the effectiveness of a "noose carpet," a 1-foot by 3-foot piece of poultry fencing with 50 to 60 monofilament nooses tied to the fencing wires. Laid flat on the ground like a sheet of tiny footsnares, ... Ptarmigan Research Article Continued
---
How to Dipnet for Salmon in Chitina

By Nancy Sisinyak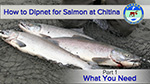 Within the next few weeks, multitudes of Alaska residents will travel to the raging Copper River in hopes of filling their freezers with world-renowned Copper River salmon. These hearty souls are not your average hook and line anglers. They aren't carrying wispy, graphite rods, sporting delicate reels wound with translucent monofilament line. No, these fishers are Chitina dipnetters. They are easily recognizable by what they have strapped to the roof of their cars or in the beds of their ... How To Dipnet Article Continued
---
Introducing ALDAT – The Alaska Lake Database

By Sportfish staff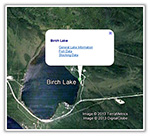 Are you looking for a place to catch rainbow trout? One that is off the beaten path, has a good camping spot, was recently stocked, or is just minutes from town? There is no better way to find your perfect weekend getaway than to turn to a map. The all new Alaska Lake Database (ALDAT) allows anglers and outdoor enthusiasts to do exactly that from their favorite web browser.
The Alaska Department of Fish and Game (ADF&G) Division of Sport Fish recently completed a new lake database that ... Alaska Lake Database Article Continued
---