Alaska Fish & Wildlife News

April 2012
Alaska Weathervane Scallop Observer Program

By Gretchen Bishop and Ryan Burt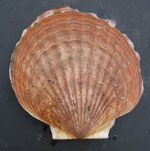 Did you ever wonder about the life that plump scallop lived before it arrived sizzling in your saucepan? Or about the people––fishermen, managers, observers, and researchers––who work together to harvest, manage, and gather information for this fishery? Well listen my friend and you shall hear of the Alaskan weathervane scallop, its fishery, and the observer program that gathers data used to manage the fishery!
The Alaska scallop fishery is based upon the weathervane ... Weathervane Scallop Article Continued
---
Real Men Don't Fear Birds

By Larry Edfelt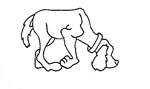 Grouse hunting in Alaska would be a more appealing sport were it not for its danger. Most of the year the grouse is passive, but during the mating season its ferocity can be notorious. They will most often ignore you, but if pushed or backed into a corner, caution is the watchword. No one who has studied pictures of men in a spruce forest exposed to the assault of a blue grouse flying directly at them out of the trees ever ventures with rifle or shotgun into the forest without a certain terror. ... Hunting Hooters Article Continued
---
Brown Bear Research in Alaska

By Amy Pinney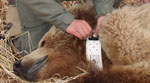 Alaska is home to about 32,000 brown bears, ranging from the Arctic to the Southeast rainforest. Whether these are the oft-photographed McNeil River bears, the famous trophy Kodiak Island bears, or secretive urban bears co-existing with Anchorage residents, state wildlife biologists are keenly interested in these magnificent animals.
Brown bears tend to be called grizzly bears in Interior and northern Alaska, but they are all Ursus arctos. There is much to learn about their basic ... Brown Bear Research Article Continued
---
The Perfect Fishing Trip

By Ken Marsh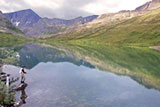 One morning in August, in the wake of a high-pressure system that had peeled away the clouds from Talkeetna to Yakutat, I stood at the outlet of a Prince William Sound lake, squinting past my reflection into a huge school of Dolly Varden. Blackflies buzzed my face and prowled my sleeves and temples, and bear scats along the shoreline suggested greater dangers lurked. Yet none of that bothered me. For the moment, I was interested only in the fish.
A short cast behind me, David ... The Perfect trip Article Continued
---