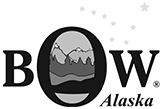 Wild Edibles Fall Harvest
A BOW (Becoming an Outdoors-Woman) Course
Juneau — Fall is the season of abundance in Southeast Alaska! Learn what to harvest in the lates season and how to gather responsibly with our expert forager.
Location and Date: Juneau, Saturday, Sept. 24, 10am–1pm
Documents: Workshop Description (Image file 266 kB)
Attention: This becoming an outdoors woman course is for women 18 years and older.
Attention!
Please fill out the following registration form CAREFULLY. After you press submit a BOW coordinator will contact you via email with a payment link within 72 hours to confirm your spot in the class. The primary responsibility of the BOW program is to reach new people who want to learn outdoor skills. As a result, those who have not attended classes will be given priority. You may still register if you have already taken a particular class, but you may be waitlisted if there is not space. Thank you!
COST: $20 PER PERSON
SEATS REMAINING: 0 / 10
MAXIMUM ENROLLMENT HAS BEEN REACHED. You may still register, but you will be put on a waitlist.