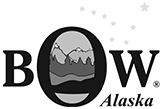 Upland Bird Hunt
A BOW (Becoming an Outdoors-Woman) Course
Juneau — Upland Bird Hunt for 'Hooters'- Spring is the best time to go hunting for grouse in Southeast Alaska. Their distinctive "hoot" makes them a fun game bird to pursue. Join our experienced instructors for a two-part class on how to identify birds and habitat, hunt and dress a bird. The first half of the class will be an evening session via Zoom, and the second half will be a half-day hunting adventure. The basics of firearm and hunter safety will also be addressed. Participants are required to have completed a hunter education certification course and be in reasonable fitness for hiking off-trail and in challenging terrain.
Location and Date: Zoom & Eaglecrest, 7-8pm, Friday, May 7; 8-11am, Sat May 8
Documents: Workshop Description (PDF 993 kB)
Attention: This becoming an outdoors woman course is for women 18 years and older.
Attention!
Please fill out the following registration form CAREFULLY. After you press submit a BOW coordinator will contact you via email with a payment link within 72 hours to confirm your spot in the class. The primary responsibility of the BOW program is to reach new people who want to learn outdoor skills. As a result, those who have not attended classes will be given priority. You may still register if you have already taken a particular class, but you may be waitlisted if there is not space. Thank you!
COST: $40 PER PERSON
SEATS REMAINING: 0 / 6
MAXIMUM ENROLLMENT HAS BEEN REACHED. You may still register, but you will be put on a waitlist.