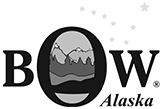 Deer Meat Processing
A BOW (Becoming an Outdoors-Woman) Course
Juneau — Learn the cuts of meat, assess the condition, then cut meat into steaks, roasts or prepare it to be round; using a meat grinder to create burger, then wrap meat so it's ready to pull out of the freezer all year long.
Location and Date: ADF&G Shooting Range, 10am to 1pm, Sat June 26
Documents: Workshop Description (PDF 550 kB)
Attention: This becoming an outdoors woman course is for women 18 years and older.
Attention!
Please fill out the following registration form CAREFULLY. After you press submit a BOW coordinator will contact you via email with a payment link within 72 hours to confirm your spot in the class. The primary responsibility of the BOW program is to reach new people who want to learn outdoor skills. As a result, those who have not attended classes will be given priority. You may still register if you have already taken a particular class, but you may be waitlisted if there is not space. Thank you!
COST: $25 PER PERSON
SEATS REMAINING: 5 / 8