North Slope Whitefish Studies
The North Slope whitefish studies have been ongoing since 1996 and have included cooperators from the University of Alaska Fairbanks, ConocoPhillips Alaska, BP Exploration (Alaska), the North Slope Borough, Bureau of Land Management, MJM Research LLC., and Alaska Biological Research. Project areas to date include the Prudhoe Bay Area, Kuparuk River Unit, Colville River area, the Fish and Judy Creek drainages of the northeastern NPR-A, and the Teshekpuk Lake region, including the Mayoriak (Miguakiak), Ikpikpuk and Chipp rivers.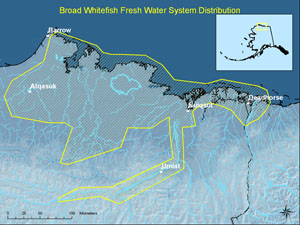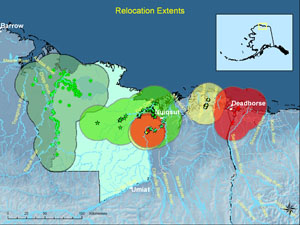 Research has focused on broad whitefish, a fish used heavily by subsistence users and present throughout drainages of the North Slope from the Sagavanirktok River to freshwater streams and lakes by Barrow. Migration and spawning periods, spawning areas and wintering areas have been identified during these studies. Fidelity to summer feeding areas, spawning and wintering areas has been identified. Additionally, data suggest that portions of the Colville River may be a significant spawning/wintering area for North Slope broad whitefish between the Sagavanirktok River to the east and the Kalikpik River to the west. To date, our research has not identified exchange of fish between the central Beaufort Sea populations and those occurring farther west around the Teshekpuk Lake region.
These research efforts are designed to aid in and have played a significant role in the permitting of North Slope oil and gas exploration and development activities. Technical Report 06-04 (PDF 15,878 kB) (Seasonal movements and habitat use of Broad whitefish (Coregonus nasus) in the Teshekpuk Lake region of the National Petroleum Reserve-Alaska, 2003-2005) and the companion report (PDF 5,868 kB) (Survey of fish habitats in the Teshekpuk Lake region, 2003-2005. Final report. December 2007) summarize data analyzed to date for this project.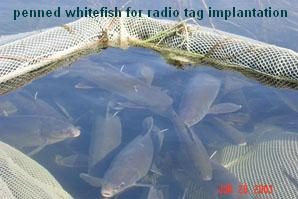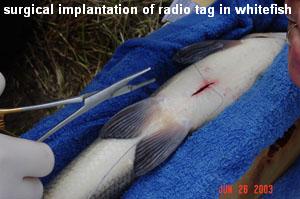 ---

* Adobe Acrobat PDF files require a free viewer available directly from Adobe. Need a hard copy of a publication? Contact Habitat Webmaster.