Black Bear Hunting in Alaska

Hunting Black & Brown/Grizzly Bears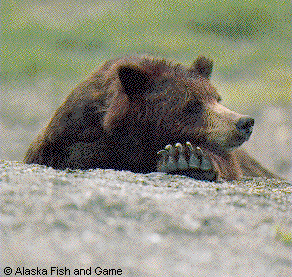 Note: This is not a substitute for the Alaska Hunting Regulations. For more complete information read the regulations and the permit hunt supplements. They are available at Alaska Department of Fish & Game offices and establishments that sell hunting licenses and tags.
Introduction
Black bears and grizzly bears may live in the same area but differ in behavior, habitat preference, and diet. Black bears prefer the mixed habitats of lowlands, like those of the Tanana Flats. They thrive on berries, carrion, vegetation and other wildlife. Grizzly bears generally live in high country above timberline where they dig for roots and ground squirrels, eat berries, and actively hunt caribou and other wildlife. Brown and grizzly bears are the same species. The smaller, inland brown bears are often called grizzlies. The bigger coastal bears are called brown bears and the extremely large brown bears on Kodiak Island are often referred to as Kodiak bears. Hunting regulations for grizzly, brown, and Kodiak bears are listed in the regulations booklet under the heading "Brown/Grizzly Bear."
Licenses, Harvest Tickets Permits, Locking-tags, and Guides
Hunting licenses are required to hunt both black and brown/grizzly bears. In addition to a hunting license, some black bear hunts require a harvest ticket, some black and brown/grizzly bear hunts require a registration permit, or a drawing permit, and some require nothing but a license. Please refer to the current years hunting regulations for what is required for the area and species you are interested in.
Nonresidents who hunt brown/grizzly bears must be personally accompanied in the field by an Alaska-licensed guide or an Alaska resident 19 years of age or older within second-degree of kindred. Black bears are not a guide required species in Alaska for nonresidents; however, some black bear hunts have different requirements for nonresidents that are not accompanied by an Alaska-licensed guide. All nonresidents must have appropriate big game locking-tags. Nonresidents under the age of 10 will not be issued harvest tickers or permits.
Residents who hunt brown/grizzly bears in Units 1-10, 14 and 15 are required to purchase a $25 locking-tag. No locking-tag is required for Units 11-13, 16-26, brown bear subsistence hunt areas, and RB525 in Units 9 and 10. Resident hunters do not need a big game locking-tag to hunt black bears.
Bag Limits and Seasons
Bear populations and bear management strategies vary across our huge and ecologically diverse state. Black bears reproduce at a higher rate than brown bears so black bear seasons tend to be more liberal. For example, in most Interior units, each hunter may take more than one black bear each regulatory year with no closed hunting season.
Depending on where you hunt, brown/grizzly bear bag limits are either one bear every four regulatory years, one bear every regulatory year, or two bears every regulatory year, and the season dates vary. Black bears vary from one to multiple.
Hunters may not take any bear cubs or sows with cubs. For this regulation, a black bear cub is defined as a black bear (including cinnamon and blue phase) in its first year of life while a grizzly bear cub is defined as a grizzly in its first or second year of life.
Salvaging Hide, Skull, and Meat
In any unit in which sealing is required, from January 1-May 31 the hide, skull and meat of a black bear must be salvaged; from June 1 – December 31 the hide and skull or the skull and meat must be salvaged. In any unit in which sealing is not required, from January 1 – May 31 the meat must be salvaged; from June 1-December 31 either the hide or the meat must be salvaged. Evidence of sex must remain naturally attached to the hide or meat until sealing requirements have been met. If salvaging the hide, in addition to evidence of sex, the claws must remain naturally attached.
You are required to salvage both the hide (with claws and evidence of sex naturally attached) and skull of a grizzly bear killed anywhere in Alaska, except in the subsistence brown bear management areas which have special sealing requirements (see the current hunting regulations for salvage requirements for brown/grizzly bear subsistence hunting).
Sealing Requirements
Black bear taken from Units 1-7, 14A, 14C, 15-17, and 20B must be sealed within 30 days of the date of kill, or less as required by permit conditions, see the current hunting regulations for hunt specific details. All brown/grizzly bears must be sealed. Sealing means taking the skull and/or hide (with claws and evidence of sex naturally attached) of the bear you killed to a designated sealing officer. A small tooth (a premolar) will be pulled to obtain age information on your bear. At the time of sealing please make sure both the skull and hide are not frozen. Designated sealers will need the skull unfrozen so the tooth can be pulled. The hide needs to be unfrozen so the sealing officer can examine the hide and can lock a metal or plastic seal on the hide. If you are interested in learning how old your bear is, call our office in late winter and we can tell you. We will need your name, date of kill, and location of the kill.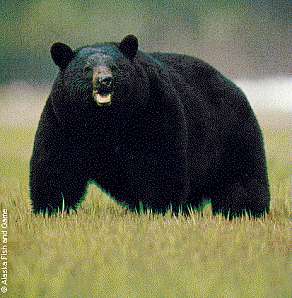 Bait and Dogs
In some areas, black and brown/grizzly bears may be taken with the use of bait. Refer to the regulations booklet (PDF 436 kB) and our other information on bear baiting for specifics.
Dogs may be used to hunt black bear by permit issued at the discretion of ADF&G. Contact your area biologist for further details.
Emergency Taking of Game
Sometimes people have to shoot a bear that may be threatening life or property. Game animals taken in defense of life or property belong to the state. If you kill a bear under these circumstances, you must salvage the hide, with claws and evidence of sex naturally attached, and skull and surrender them to the state. You must immediately notify ADF&G or Alaska Wildlife Troopers of the kill and within 15 days, you must also complete and submit a questionnaire explaining the circumstances of the incident. If you wound a bear and it escapes, you should also report the incident to ADF&G or Alaska Wildlife Troopers immediately.
Taking Your Grizzly Bear Hide Out of Alaska
If you plan on taking any untanned bear hide or skull out of the state it must be sealed. If you plan to take your bear hide out of the United States, you need to obtain a federal CITES permit from U.S. Fish and Wildlife Service, Law Enforcement. For more information, call the U.S. Fish and Wildlife Service Inspection Office in Anchorage at (907) 271-6198.