Nome and the Seward Peninsula

Wildlife Viewing
Thanks to nearly 300 miles of maintained gravel roads, the Seward Peninsula offers a rare opportunity to explore the wildlife, landscapes, and lifestyles of Alaska's Arctic region. Open for about half the year, three main roads lead out of Nome into landscapes of rugged beauty.
Here rocky surf-battered headlands share coastline with long sandy beaches, and coastal breezes ripple across sheltered lagoons. Clear water streams bubble out of glacially-carved mountains, blazing fall colors light up rolling expanses of tundra, and precious few trees block the view.
Visitors may see a variety of wildlife from muskox munching in willow thickets to brown bear roaming mountain slopes, from curlews nesting in arctic tundra to songbirds flitting through boreal forest, from gray, beluga, and killer whales coursing through Bering Sea waters to salmon and arctic grayling slipping over gravel streambeds.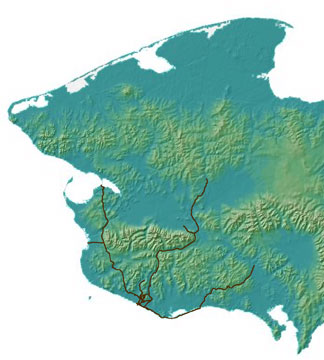 Residents of the Seward Peninsula, like those in the rest of Alaska, value wildlife for many reasons. While they take great pleasure in observing wildlife, many also appreciate wild game on the table and a fur ruff to protect against winter's bitter winds.
Whether you are discovering the Seward Peninsula for the first time or know its crannies well, a trip along the roadways may spark new ways of seeing and appreciating the interconnections of wildlife, people, and the land.
Wildlife Viewing by Road