Early Childhood Resources
When does a child begin learning about the natural world? The earlier, the better!
By introducing and supporting the exploration of the natural world by young children, we open a door of discovery that leads to life-long learning and helps to head off many potential mental and physical challenges children may have in the future, such as obesity, attention deficit disorder and other learning and behavioral problems. ADF&G encourages families as well as groups to learn outside!
See our calendar for upcoming events.
Young children and their families can learn about the natural world through a Kids in Nature workshop. Their parents and care-givers can also receive training in one of several workshop offerings listed below to learn more about this place we call home and the creatures we share it with.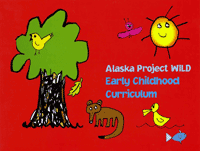 Alaska Project WILD Early Childhood Curriculum for Care Givers and Parents
This easy to use guide includes activities and suggestions to help the adults in a young child�s life to confidently lead and teach children about animals and their ecosystems, as well as wildlife awareness and appreciation. Each activity is broken down into manageable parts with helpful recommendations and information. This book is available only through ADF&G.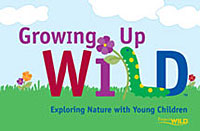 Growing Up WILD: Exploring Nature with Young Children ages 3–7
Growing Up WILD is an early childhood education activity guide that helps build a sense of wonder about nature and invites children to explore wildlife and the world around them. Through a wide range of activities and experiences, Growing Up WILD provides an early foundation for developing positive impressions about the natural world and lifelong social and academic skills. Growing Up WILD is correlated to the National Association for the Education of Young Children (NAEYC) Standards and the Head Start Domains. This guide is available through a Growing Up WILD workshop. Contact the Alaska Wildlife Curriculum Coordinator (907-267-2216) for more information or check our calendar for workshops.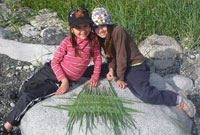 Kids in Nature (KiN) Workshops
Kids In Nature Workshops are geared for families and small groups and focus on getting children and their adults outside. Led by ADF&G staff or their KiN partners, the workshops help guide participants through activities and discoveries that help engage children in discovering the great outdoors and encouraging free play that is so important to a child�s development.
Quick Links