Alaska Department of Fish and Game
---
Education & Outreach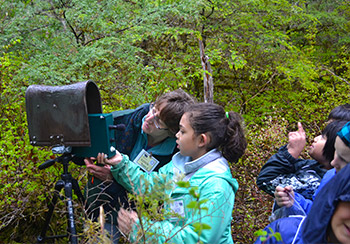 Welcome. Education plays a vital role in fish and wildlife conservation. We are proud to provide a wealth of information and educational resources on a wide range of conservation and outdoor topics. Whether you are a hunter, angler, teacher, parent or an aspiring outdoors person, we have resources to help. Search the main categories to learn about our many offerings including workshops for teachers, educational and informational materials, camps and skills clinics for youth and adults, and much more. You can also browse our calendar to find dates of courses, camps, clinics and other community events. We offer educational resources for all ages, from early childhood to adults.
Upcoming Events
Alaskans Afield Judging Moose Antlers and Dall Sheep Horns
Fairbanks — July 29
Beyond BOW Backpacking Southeast AK
Juneau, Peterson Lake Trail to USFS Cabin — July 29-30 (Overnight, 2 days)
Alaskans Afield Small Game Hunting (Two-part class)
Nome — August 4 – 5
Interior Summer BOW Workshop
Fairbanks, Lost Lake Boy Scout Camp — August 4-6, 2017
Did You Know?
If a moose charges, you should walk quickly or run to a safe place – inside a building, behind a tree or anywhere a safe distance from the moose.
Alaska Department of Fish and Game
P.O. Box 115526
1255 W. 8th Street
Juneau, AK 99811-5526
Office Locations