Notice
This map is intended for hunt planning use, not for determining legal property or regulatory boundaries. Content is compiled from various sources and is subject to change without notice. See the current hunting regulations for written descriptions of boundaries.
Hunters are responsible for knowing the land ownership and regulations of the areas they intend to hunt.
Instructions
| | |
| --- | --- |
| | Change the basemap to a topographical map, nautical chart, satellite imagery, etc. |
| | Return to the initial coordinates. |
| | Add overlays of Special Areas, Subunits, or Alaska Towns |
| | Create a printable PDF as well as email yourself a copy if you wish. |
| | Access instructions within the map. |
| | Change map mode to fullscreen. |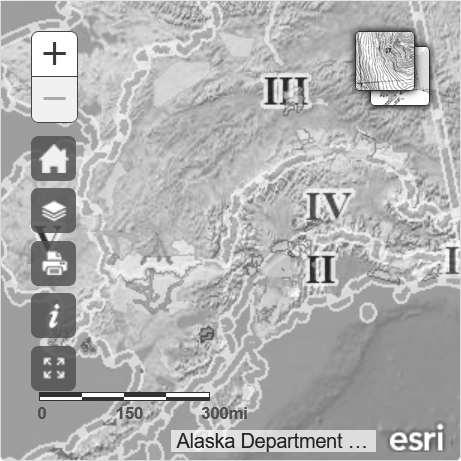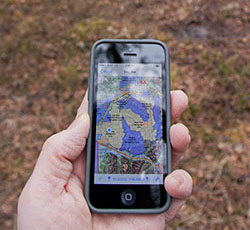 Install a FREE interactive PDF maps app before downloading hunting maps. There is a variety of applications designed to read geospatial PDFs, some are free. Choose an app that will read a geospatial PDF without internet connection on your mobile device. ADF&G cannot endorse a specific product but we will use PDF Maps Avenza as an example in these instructions.
Android
iPhone / iOS
Other
On your Android device, open the hunt map email that was sent to you.
Tap the first link of the PDF or the PDF attachment.
One of two things will then happen

If you are prompted to choose how to open it, select the PDF Maps app to import your customized PDF map (View Screenshot)
If your map opens automatically in Adobe Acrobat or another app for viewing PDFs, look for the Share or Send options and select PDF Maps.
On your iOS device, open the hunt map email.
Scroll to the bottom of the e-mail and download the PDF.
Hold down on the center of the PDF icon (View Screenshot).
Open the map in the PDF Maps app.
On your mobile device, open the hunt map email that was sent to you.
Copy the URL of the PDF (the first link in the email).
Open the PDF Maps application on your mobile device.
Navigate to the "Maps" section.
Click on the + icon at the top of the screen.
Scroll to the bottom and start typing in the box below "From the Web".
Paste in the URL that you previously copied.
Thanks! A PDF of your map has been generated.
To download a copy of the PDF file click here.
To email yourself a link and a copy of your map, enter your address below and click "Email PDF."
An error has occurred trying to email the PDF file. Please try again later.
You can still download the file by clicking here.
A link to your PDF map will be emailed to in approximately one (1) minute.
You may have to open the PDF in a third-party reader to take advantage of GeoPDF™ (geolocation-enabled) features.
| | |
| --- | --- |
| | Click the instructions icon to learn how to load the PDF file onto your mobile device(s). |