Area Sport Fishing Reports

Anchorage
Archived Sport Fishing Report
August 04, 2021
* Just a reminder to all our anglers, please do your part to help slow the spread of Covid-19 by practicing social distancing while sport and personal use fishing, and wear a face-covering when social distancing is not possible and if you are needing fishing supplies from your local store.
Freshwater Fishing
Rainbow Trout/Dolly Varden/Arctic Char
Rainbow Trout and Dolly Varden fishing opened on many parts of the Campbell Creek and Chester Creek drainages on June 15. Campbell and Chester creeks have both been stocked with rainbow trout. Anglers can have success for local trout by casting small spinners and spoons through deep pools or drifting nymph or egg imitation fly patterns.
Salmon
Ship Creek is currently open to salmon fishing from the mouth to a cable 100 feet below the Chugach Power Plant Dam. The remainder of the creek up to 300 feet above the Elmendorf Power Plant Dam, near the William Jack Hernandez Sport Fish Hatchery, is CLOSED YEAR-ROUND to ALL fishing. Effective July 14, Ship Creek is open to fishing 24 hours a day. Fishing for coho salmon catches in Ship Creek continue to pick up. Try drifting salmon roe under a slip bobber or casting spinners. Both methods have produced fish depending on the stage of the tide. Emergency order (2-KS-2-44-21) extending the season on Ship Creek for retention of king salmon has expired.
Bird Creek is open as of Wednesday, July 14 to fishing, except for king salmon. Bird Creek is always closed to king salmon fishing. Fishing is picking up for coho salmon. Pink salmon has also been fishing well.
Portions of Campbell Creek opened to fishing for coho salmon on July 14 and remains open until September 30. If you accidentally catch another species of salmon be sure to keep it in the water and release it quickly. A few fish are moving into the system but fishing has been reported as slow. Fishing will typically improve when water levels increase. Fishing salmon roe under a slip bobber or casting spinners are good options. Fishing will be slow to start as silvers are just starting to move in.

Interest in learning how to use a slip-bobber on Campbell Creek? Check out this ADF&G YouTube video!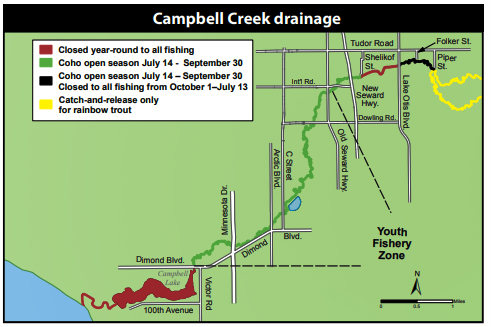 Local Lakes
Fishing in local lakes continues to be good! Anglers have reported consistent catches of catchable-sized rainbow trout from shore and by boat. The bite tends to be better early in the morning or late in the evening. Also, try fishing in the shady parts of the lake or the deeper parts that are cooler. Arctic char can be caught in local lakes by focusing efforts in deeper water.
Try fishing small spinners or bait under a bobber to entice a strike. Dry fly action can be a fun and effective way to target stocked fish in the evenings.
Symphony Lake opened to fishing on July 1. It's almost 7 miles to get to the lake but Arctic grayling fishing has been good. The bag and possession is five fish, of which only one fish may be greater than 12 inches. Casting flies or small spinners work well to catch Arctic grayling in Symphony Lake.
Fishing on base? Just a reminder, you need to register with iSportsman and check with base personnel prior to fishing on JBER.
Northern pike is not native to Anchorage area lakes but there are some in Lower Fire Lake. If you catch a pike in any Anchorage area lake, please keep it and call ADF&G at 907-746-6328.
Emergency Orders
Please review the Emergency Orders and Advisory Announcements below in their entirety before heading out on your next fishing trip.
There are currently no emergency orders in effect for the Anchorage Management area.
Don't forget to purchase your 2021 sport fishing license and king stamp! Help maximize social distancing and purchase your 2021 sport fishing license and king stamp through the ADF&G online store and print it off from the comfort of your own home. Also, make sure to review Emergency Orders and the 2021 Southcentral Sport Fishing Regulations Summary booklet for the area you are fishing before you head out.
For additional information, please contact the Anchorage Area Office at (907) 267-2218.