Area Sport Fishing Reports

Anchorage
August 17, 2022
ADF&G News
ADF&G is mobile. You can purchase and display your fishing license and king stamp, record your annual harvest (i.e. king salmon, halibut), access sport fishing regulations and locations, and so much more on your mobile device. Download the ADF&G Mobile App today.
Freshwater Fishing
Rainbow Trout/Dolly Varden/Arctic Char
Rainbow trout and Dolly Varden fishing is open on many parts of the Campbell Creek and Chester Creek drainages. Water levels have come up again with the recent rain, but small spinners can work well when clarity improves and also drifting nymphs or egg imitation fly patterns.
Salmon
Ship Creek is open 24 hours a day to sport fishing but is closed to the retention of king salmon. With all the rain in Anchorage a lot of coho salmon are moving through. The bag and possession limit for coho salmon was increased effective Wednesday, August 17 to six coho salmon per day, six in possession. See the Emergency Order below.
Coho fishing on Ship Creek has been good for many anglers, and more fish continue to be caught. Catches will start to drop off as the run will start to wrap up soon. Slip bobber set ups with salmon roe are a good option for targeting coho salmon as are spinners in the size #3 to # 5 range.
Bird Creek is open to salmon fishing, except king salmon. Fishing has been fair for silvers and slow for pinks. Fishing around the incoming tide is a good option. Both slip bobber set ups with bait and casting spinners are good options. Take both so you have options
Portions of Campbell Creek are open to fishing for coho salmon until September 30. If you accidently catch another species of salmon be sure to keep it in the water and release it quickly. Water levels on Campbell Creek are back up with the recent rain, but quite a few more silvers moved in with the rainfall. Fishing salmon roe with a slip bobber is your best option with the higher flows, but don't rule out casting spinners as water levels drop and clarity improves.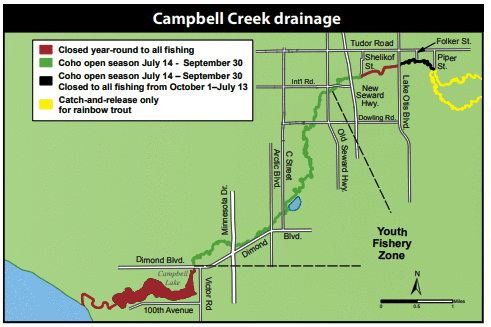 Local Lakes
Anchorage Bowl lakes are still fishing well and the fish are active!
Have a canoe, kayak, or small raft and looking to get just outside of Anchorage? Give Mirror or Beach lakes a try. Both lakes are stocked with rainbow trout and are fun options.
Jewel Lake has been fishing really well as has Campbell Point/Little Campbell Lake. Dry or streamer flies have been great options as well as small spinners. Using a raft or canoe in the lake is a good option though you can walk all around this lake and access different fishing spots from shore.
Dry flies in the evening make for some fun fishing. Small spinners are a great option right now as well. These should work well at many of the stocked lakes.
Symphony Lake opened to fishing on July 1. This is a great hike in and fish location with lots of Arctic grayling fishing fun! Small spinners, dry flies, you name it, these fish will bite them all!
Looking for information on Anchorage stocked lakes? Check out this publication which contains info such as how to access locations and bathymetric maps.
Check out the stocking webpage to find out when your favorite lake was last stocked.
Fishing on base? Just a reminder, you need to register with iSportsman and check with base personnel prior to fishing on JBER.
Northern pike are not native to Anchorage area lakes, but there are some in Lower Fire Lake. If you catch a pike in any Anchorage area lake, please do not release it.
Emergency Orders
Please review the emergency order and advisory announcement below in their entirety before heading out on your next fishing trip.
Emergency Order No, 2-SS-2-64-22 increases the bag and possession limit for coho salmon, 16 inches or greater in length, in the Ship Creek drainage from its mouth upstream to a cable 100 feet downstream of the Chugach Power Plant Dam, to six fish, effective. This increase goes into effect on Wednesday, August 17 at 12:01am through December 31st, 2022.
Don't forget to purchase your 2022 sport fishing license and king stamp! Purchase your 2022 sport fishing license and king stamp through the ADF&G online store and print it off from the comfort of your own home. Also, make sure to review emergency orders, advisory announcements, and the 2022 Southcentral Alaska Sport Fishing Regulations Summary booklet for the area you are fishing before you head out.