Alaska Department of Fish and Game
---
Secondary Site Navigation
Area Sport Fishing Reports

Resurrection Bay
August 17, 2017
Week of August 17 to August 23
General Area Description: Salt waters within 200 miles of shore from the longitude of Gore Point to the longitude of Cape Fairfield. All fresh waters between Gore Point and Cape Fairfield.
Regulation Reminders and Emergency Orders
The personal use season for shrimp fishing with pot gear in North Gulf Coast area waters opened April 15. North Gulf Coast shrimp permit is required to participate in this fishery.
The Resurrection River (fresh water area), downstream of the Seward Highway and Nash Road opened to salmon (except king salmon) fishing on Friday, June 16. Only unbaited, single-hook, artificial lures are allowed; snagging is not permitted in this freshwater portion of Resurrection River. Remember that in the fresh water section the bag limits are three per day, three in possession, of which only two may be coho salmon. This is different from the salt water section where bag limits for salmon (except king salmon) are six per, six in possession and all six may be coho (silver) salmon.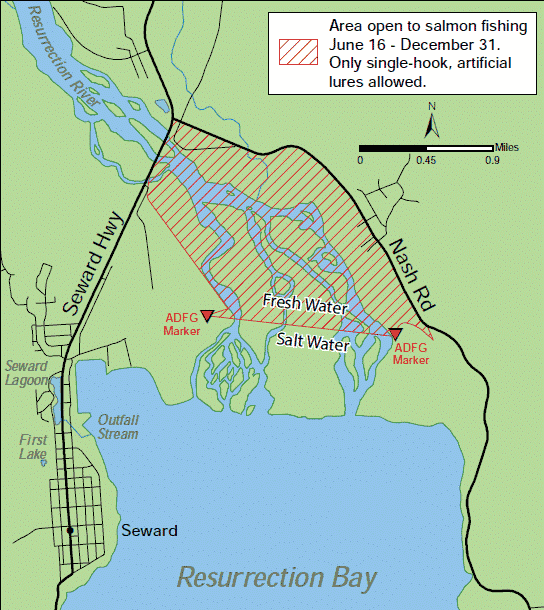 Saltwaters
Halibut
Halibut are federally managed by NOAA. Make sure you know the regulations! Unguided and guided anglers have different rules to follow.
Halibut fishing in the North Gulf Coast continues to be good this year. Some nice fish were caught over the last week. Weather conditions look like they will continue to be good for the upcoming weekend. Always be sure to watch the weather if traveling out far. If fishing closer to town, try drop offs near creek mouths where pink salmon will congregate before making their final spawning runs. Use large bait (e.g.; large herring or salmon bellies) to avoid catches of small non-targeted species and hopefully catch some bigger fish.
Salmon
The 62nd Seward Silver Salmon Derby started on Saturday and runs through August 20 (that's this Sunday!). The current leader is a 13.96 lbs. coho! Fishing spots out towards Fox Island and the El Dorado Narrows are where some of the top fish are coming from…but not all of them!
Limits of coho salmon are still being caught both inside and outside of Resurrection Bay.
As a reminder: the coho limit outside of Resurrection Bay is three per day, three in possession; and inside Resurrection Bay is six per day, six in possession. Anglers that have caught six coho salmon inside Resurrection Bay may not leave the bay.
Other Saltwater Fishing
Lingcod fishing opened July 1. Reports continue to be mixed. Some anglers are having success while others can't find any lingcod. Lingcod fishing is CLOSED year-round within Resurrection Bay. Check the 2017 Southcentral Sport Fishing Regulations Summary booklet for location specifics, and size restrictions on lingcod.
Pacific cod can be caught in Resurrection Bay right now, if you are looking for an alternative fish to target.
Rockfish are easy to catch and have a fairly conservative bag limit, so target your rockfish last.
Fishing Tip: Brush up on your rockfish identification before you head out fishing by reviewing page 90 of the 2017 Southcentral Sport Fishing Regulation Summary booklet.
Shellfish
There have been no reports from the personal-use shrimp pot fishery. This fishery is now open in the entire North Gulf Coast area from Cape Fairfield to Gore Point. To participate in the fishery you must be an Alaska resident with a current sport fishing license or ADF&G Permanent ID card, and a North Gulf Coast shrimp pot fishery permit. Permits can be obtained at the Anchorage, Homer, or Soldotna ADF&G offices.
Review page 83 of the 2017 Southcentral Alaska Sport Fishing Regulations Summary booklet for regulations on this fishery, and page 82 for shrimp pot requirements.
Freshwaters
Salmon
The Resurrection River, downstream of the Seward Highway and Nash Road is OPEN to salmon (except king salmon) fishing. This is considered the "fresh water section" and is the only fresh water section open to salmon fishing in the area. Remember: snagging is NOT allowed in the fresh water portion of Resurrection River.
Coho are now starting to show up at the Bear Creek weir. Fishing should start to get better in Resurrection River over the next couple of weeks.
Remember: a coho salmon 16 inches or longer that is removed from the fresh water must be retained and becomes part of the bag limit of the person who originally hooked the fish. A person may not remove a coho salmon 16 inches or longer from the water before releasing it.
Rainbow Trout, Dolly Varden, Arctic Grayling
Dolly Varden are migrating toward fresh waters following salmon into creeks. Try small lures or beads. You can try casting small spinners and spoons off the beach for some sea run Dolly Varden action.
Fry and smolt patterns have been known to produce catches of Dolly Varden in Seward area streams.
Northern Pike
Northern pike are not native to Southcentral Alaska. Please report the capture of any pike in unconfirmed waters to ADF&G. Do not release any pike you have caught.
Lake Fishing
Anglers can visit the ADF&G Hatcheries and Stocking webpage for more information regarding when and where fish are stocked.
First Lake was stocked with rainbow trout in late June.