Division of Sport Fish
Israel Payton, Director

Anchorage Headquarters Office
333 Raspberry Road
Anchorage, AK 99518

---

Alaska Department of Fish and Game
Doug Vincent-Lang, Commissioner

P.O. Box 115526
Juneau, AK 99811-5526
www.adfg.alaska.gov

---

Advisory Announcement
(Released: August 29, 2023 - Expired: September 30, 2023)

CONTACT: Daniel Teske
Juneau Area Management Biologist
(907) 465-8152
North Gastineau Channel Closed to Coho Salmon Fishing
(Juneau) - The Alaska Department of Fish and Game (ADF&G) is announcing that beginning at 12:01 a.m. Friday, September 1, fishing for coho salmon and snagging will be prohibited in the marine waters of Gastineau Channel, north of Juneau-Douglas Bridge and south of a line between Salmon Creek Bridge and the regulatory marker across on Douglas Island (see attached map). Snagging or attempting to snag is prohibited in this area for all species. Coho salmon may not be targeted, retained, or possessed. Coho salmon caught while fishing for other species, must be released immediately. This closure will be in effect from 12:01 a.m. Friday, September 1 through 11:59 p.m. Saturday, September 30, 2023.
Based on the low number of tag recoveries, and the low number of coho salmon that have returned to the Douglas Island Pink and Chum (DIPAC) Inc. Macaulay Salmon Hatchery to date, a very poor run of hatchery produced coho salmon is projected. This extremely low run is not expected to meet hatchery broodstock goals this year. This closure is necessary to provide sufficient coho salmon to achieve hatchery broodstock needs.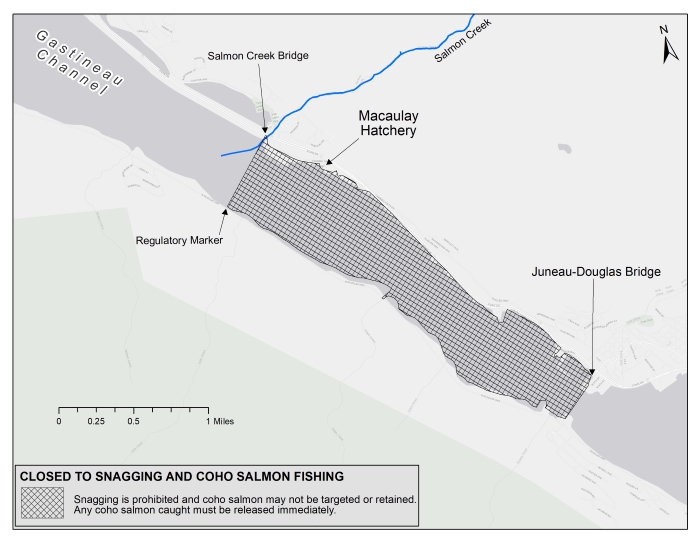 For further information concerning this announcement please contact Juneau Area Management Biologist, Daniel Teske at (907) 465-8152 or visit our website.
#23-3598