Division of Sport Fish
Dave Rutz, Director

Anchorage Headquarters Office
333 Raspberry Road
Anchorage, AK 99518

---

Alaska Department of Fish and Game
Doug Vincent-Lang, Commissioner

P.O. Box 115526
Juneau, AK 99811-5526
www.adfg.alaska.gov

---

Advisory Announcement
(Released: March 02, 2021 - Expired: March 31, 2022)

CONTACT: Richard Chapell
Management Biologist
(907) 766-3638
Sport Fishing Regulations for King Salmon in Southeast Alaska and the Haines/Skagway area for 2021
The Alaska Department of Fish and Game announced today the 2021 regionwide sport fishing regulations for king salmon in Southeast Alaska and the modifications for the Haines/Skagway Area. The following regionwide regulations, are effective 12:01 a.m. Wednesday, March 3, 2021 through 11:59 p.m. Thursday, March 31, 2022:
Alaskan Resident
The resident bag and possession limit is three king salmon, 28 inches or greater in length;
Nonresident
The nonresident bag and possession limit is one king salmon, 28 inches or greater in length;
The nonresident annual limit is four king salmon, 28 inches or greater in length;
Immediately upon landing and retaining a king salmon a nonresident must enter the species, date, and location on their sport fishing license or on a nontransferable harvest record;
All Anglers
From October 1, 2021 through March 31, 2022 a sport angler may use two rods when fishing for king salmon, a person using two rods under this regulation may only retain salmon.
The Southeast regionwide bag and possession limits above will apply in all areas except as modified below for the inside waters in the vicinity of Haines and Skagway:
All anglers
From April 1 through July 15: The waters of Chilkat Inlet, north of the ADF&G regulatory marker immediately north of Seduction Point (see attached map) will be closed to king salmon sport fishing.
From April 1 through December 31: In Section 15-A, the waters of Lynn Canal north of the latitude of Sherman Rock, including Chilkat Inlet, (see attached map), the retention of king salmon is prohibited; any king salmon caught must be released immediately and returned to the water unharmed.
The 2021 total run forecast for Chilkat River king salmon is 1,500 large fish, which is below the lower end of the escapement goal range (1,750 to 3,500 large fish). When the run forecast is below the goal range, the Lynn Canal and Chilkat River King Salmon Management Plan prescribes closing Chilkat Inlet to king salmon sport fishing through July 15. Because of continued poor marine production of Chilkat River king salmon, the Alaska Board of Fisheries in 2018 adopted the Chilkat River and King Salmon River King Salmon Stock Status and Action Plan, which specifies non-retention of king salmon in Section 15-A until the Chilkat River stock has recovered.
Fishery conservation actions are being taken regionwide effort to reduce harvest of Southeast Alaska wild king salmon in all fisheries, including sport, commercial, personal use, and subsistence. Anglers fishing south of the Haines/Skagway area should review the news releases announcing sport fishery regulations specific to the Juneau, Petersburg/Wrangell, and Ketchikan areas.
For further information concerning this announcement, please contact Haines/Skagway Area Management Biologist, Richard Chapell at (907) 766-3638.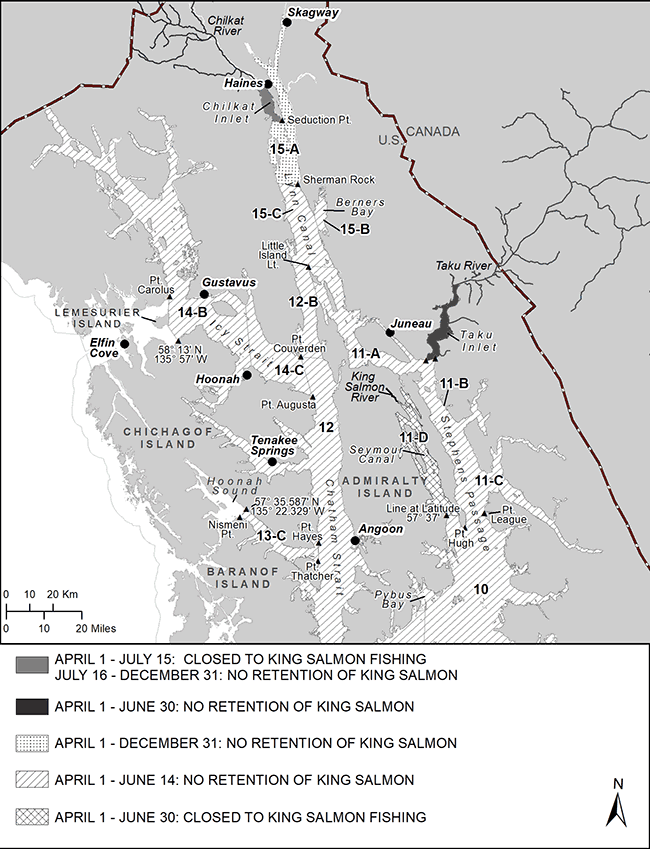 #21-3096