Doug Vincent-Lang, Commissioner
Sam Rabung, Director - Division of Commercial Fisheries
Dave Rutz, Director - Division of Sport Fish
---
Contact:
Aaron Dupuis - Division of Commercial Fisheries
Phone: (907) 747-6688
Troy Tydingco - Division of Sport Fish
Phone: (907) 747-5379

Sitka Area Office
304 Lake Street, Room 103
Sitka, Alaska 99835

Date: February 03, 2020
Time: 12:00 AM
---
DISTRICT 13 SUBSISTENCE AND SPORT SHRIMP FISHERIES ANNOUNCEMENT
(Sitka) - The Alaska Department of Fish and Game announced today that the Hoonah Sound portion of the District 13 subsistence and sport shrimp fisheries will be closed north and west of a line from 57°35.07′ N. lat., 135°33.57′ W. long., to 57°37.89′ N. lat., 135°28.65′ W. long., from 12:00 a.m. Sunday, March 1 through 11:59 p.m. Thursday, December 31, 2020 (see below). The remainder District 13 will remain open.
The District 13 spot shrimp survey has been conducted annually since 1999, with a brief interruption from 2015–2016. Results of the 2017–2019 surveys indicate that the health of the spot shrimp population in Hoonah Sound is poor. Catch rates in the survey of both small and large size class shrimp have declined since 2017; the 2019 catch rates were among lowest for each size class in the history of the survey. Size information collected from the survey suggests that several new generations of shrimp are experiencing very poor survival. These results are similar to those observed in Tenakee Inlet, where the department closed fisheries for seven years to prevent further harvest on a population that showed poor population health.
In addition to the closure of the sport and subsistence fisheries, the Section 13-C commercial pot shrimp fishery will be closed through at least the 2020/21 season. The closure of shrimp fisheries in the Hoonah Sound portion of District 13 is warranted in order to protect the remaining female spot shrimp and aid in the recovery of the stock.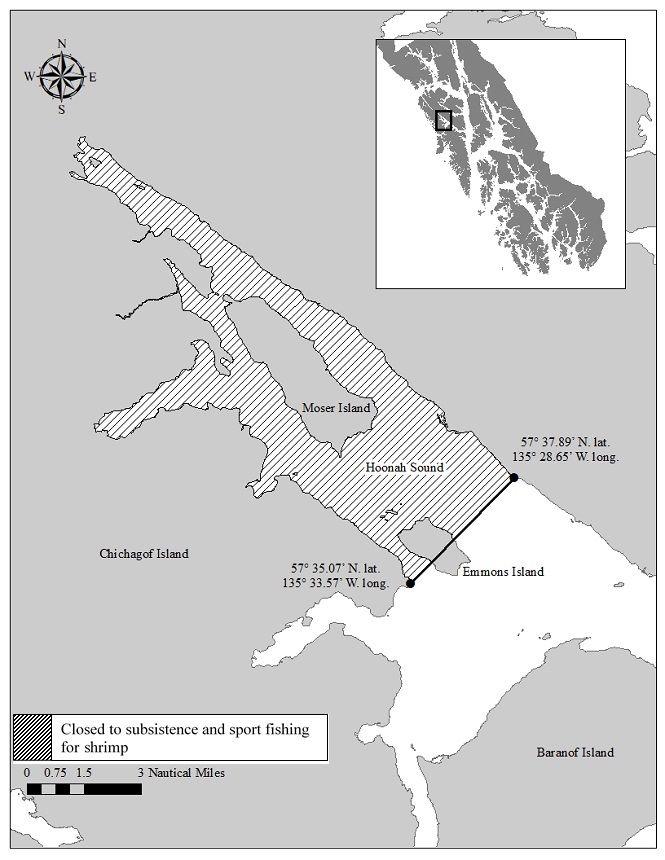 #20-2878