Area Sport Fishing Reports

Kuskokwim
Archived Sport Fishing Report
July 01, 2021
* Just a reminder to all anglers, please do your part to help slow the spread of Covid-19 by practicing social distancing while sport and personal use fishing as well as when shopping for fishing supplies from your local store, and by wearing a face covering when social distancing is not possible.
Sport Fishing
Resident species
Resident freshwater species
With water conditions returning to better levels and visibility increasing, fishing in the Kuskokwim River drainage and the Kuskokwim Bay drainages has been good.
Sheefish are catchable at the mouths of many clearwater rivers such as the Aniak and Holitna, as well as other clearwater streams near Bethel such as the Kwethluk and Kisaralik. Large colorful spoons and spinners work well. Higher water conditions may persist in streams draining higher elevations due to snowmelt until mid-July.
Rainbow trout fishing is excellent in July. These popular fisheries occur in the Kuskokwim Bay Rivers – Goodnews, Kanektok, and Arolik, and in the lower Kuskokwim drainages that include the Kisaralik, Kwethluk, Kasigluk, and Aniak. The Aniak river is still experiencing some high-water conditions but is still fishable. Anywhere rainbow trout can be found, chances are there will be plenty of Dolly Varden, which will easily strike your rainbow lure or fly, or anything shiny.
Northern pike fishing can be world class because they are not often targeted in this drainage, and they inhabit large waters with plenty of room and forage to grow. The bigger fish often tend to occupy clearwater mouth or connected slough complexes along the mainstem Kuskokwim River. Anything that imitates prey and attracts attention will work. Crocodiles and larges spoons work anytime, and topwater lures such as jitterbugs and large fly patters work best in late evening under the midnight sun when the large pike will lurk in the warm surface waters.
There are many guides and outfitters that provide excellent services and opportunities throughout the Kuskokwim Bay area and the Kuskokwim River operations are more normal after a drastic decrease in business and operations in 2020 due to Covid-19. If you have made arrangements with any of these services for fishing this season, please touch base with them prior to your travel to ensure you are able to be compliant with their business, or the local communities they operate out of, Covid-19 requirements or precautions.
Salmon
Sport fishing for king salmon has been closed in the Kuskokwim River drainage but remains open in the Kuskokwim Bay streams – Kanektok, Goodnews, and Arolik. Sport fishing for king salmon in the Kuskokwim drainage will remain closed for this season due to poor expected escapement numbers and extensive subsistence fishery closures. Catches of king salmon in the Kanektok and Goodnews Rivers are reported to be good.
Currently, the Kuskokwim Bay Rivers – Kanektok, Goodnews, Arolik – are a good alternative to king fishing on the Kuskokwim River tributaries. The Kuskokwim Bay tributaries remain open but please check for any announcements prior to making plans.
The chum salmon run has been very small, requiring them to be closed to sport fishing, including catch-and-release, in the Kuskokwim River drainage. This includes catch-and-release. However, the Kuskokwim Bay drainages remain open to sport fishing for chum salmon.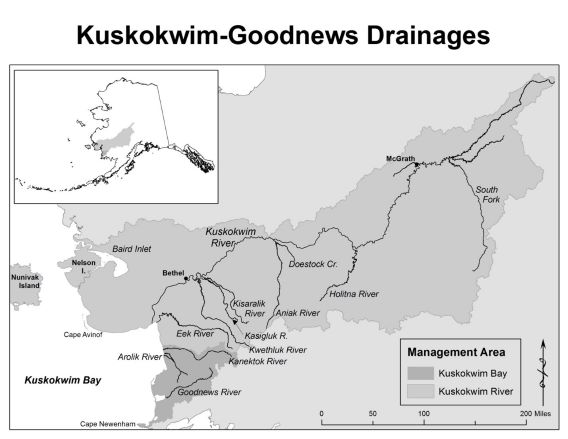 Because fish typically grow and reproduce more slowly at high latitudes and elevations, please use proper techniques when engaging in catch-and-release in order to ensure the survival of the released fish such as:
Use lures with a single hook and crimp down the barb. Do not use bait.
Land the fish with a soft net and keep the fish in the water when removing the hook.
To release the fish, hold it gently facing into the current or in water without current gently cradle the fish and move it slowly back and forth until it swims away under its own power.
Emergency Orders
Please review the Emergency Orders and Advisory Announcements below in their entirety before heading out on your next fishing trip:
Emergency Order 3-KS-V-03-21 closes the Kuskokwim River drainage to sport fishing for chum salmon to June 11th.
Emergency Order 3-KS-V-01-21 closes the Kuskokwim River drainage to sport fishing for king salmon
Don't forget to bring your 2021 sport fishing license. Help maximize social distancing by purchasing your sport fishing license at the ADF&G Online Store and print it off from the comfort of your home. Also, be sure to review Emergency Orders and the 2021 Northern Sport Fishing Regulations Summary Booklet for the area you are fishing in before you head out.
For more information, please call the Kuskokwim Goodnews Area Manager at (907) 459-7361.