Area Sport Fishing Reports

Anchorage
September 07, 2018
General Area Description: All waters draining into the east side of Knik Arm south of, and including, the Eklutna River drainage, and all waters draining into the north and west sides of Turnagain Arm, and all waters draining into the south side of Turnagain Arm east of, and including, Ingram Creek.
Recent News Release
A non-native bass was caught and brought in to ADF&G. A local angler reported catching a bass on Sand Lake in Anchorage. Bass are not native to Alaska, and it is illegal to transport live fish anywhere in the state. It is not known if this is an isolated incident, or if there are more bass in the lake. ADF&G is urging anyone to be on the lookout for non-native fish they might catch while fishing. If they catch a fish that does not look like a salmon, rainbow trout, Arctic char, or Arctic grayling, or other native Alaskan fish (e.g. Stickleback) please kill, keep the fish, and report it immediately to ADF&G. Do not release it back in to the water live. Bring all suspected non-native species in to the Anchorage ADF&G office at 333 Raspberry Road or call (877) INVASIV or (877) 468-2748. Also be on the lookout for potential illegal introducing activities like dumping buckets of fish which may introduce invasive species. If you do see or suspect illegal stocking activities immediately contact State troopers at (907) 745-4247.
Regulation Reminders and Emergency Orders
Emergency Orders
Per Emergency Order No. 2-SS-2-56-18, the bag and possession limits for coho salmon, 16 inches or greater in length, was increased to six per day and six in possession in the Ship Creek drainage from its mouth upstream to a cable 100 feet downstream of the Chugach Power Plant Dam.
Regulation Reminders
King salmon fishing is CLOSED in all Anchorage Bowl streams. Any kings caught must be immediately released. Kings are mixed in with coho salmon so be sure you know how to identify your catch!
Portions of Campbell Creek are open to coho salmon fishing.

No other salmon species may be targeted or retained on Campbell Creek.

Select areas of Chester Creek are open to fishing for fish species other than salmon.

NO SALMON FISHING IS ALLOWED ON CHESTER CREEK.

The lower portion of Bird Creek is open to salmon fishing, except king salmon. King salmon fishing is NEVER allowed on Bird Creek. You are allowed to retain coho, pink, and chum salmon, which are included under "other salmon" in the 2018 Southcentral Sport Fishing Regulations Summary booklet. The bag and possession limit for other salmon over 16 inches are three per day and only three in possession.
Symphony Lake is open to fishing annually from July 1-May 1.
Freshwater Fishing
Salmon
Ship Creek is open to salmon fishing for all species, except king salmon, from the cable below the dam to the mouth of the creek. Small schools of coho salmon continue to move into Ship Creek but it has slowed down. Anglers continue to catch fish casting spinners, or fishing cured salmon roe under a slip-bobber particularly during the incoming tide.
Coho salmon fishing on Campbell Creek has been slow. Rain in Anchorage will encourage coho holding in Campbell Lake, which is closed to fishing, to move up into the creek. Anglers have reported catches of coho while fishing salmon roe on the bottom as well as under a slip-bobber. Try fishing the early morning or late evening to increase your chance of success. Once the fish have been disturbed in fishing hole they become a lot harder to catch.
Salmon fishing at Bird Creek has been slow. Angling effort has decreased significantly but a few coho salmon are still moving into the system. Fishing roe under bobber during the incoming tide and casting spinners during outgoing tide have produced the most consistent catches at Bird Creek. Some anglers have even reported catching coho stripping articulated leech flies. Bears have been reported walking the creek, so it is important to remember you are fishing in bear country and to keep a close eye on your catch and the surroundings.
Trout and Dolly Varden
Trout and Dolly Varden fishing continues to be excellent on Campbell Creek. Try fishing egg imitation flies or trout beads behind spawning salmon. Flesh flies will begin to produce catches of trout as Chinook salmon spawning draws to an end.
Salmon fishing is CLOSED in some areas, and other areas are catch-and-release ONLY for rainbow trout on Campbell Creek. Please review the 2018 Southcentral Regulation Summary Booklet before going fishing to make sure you are in the right area.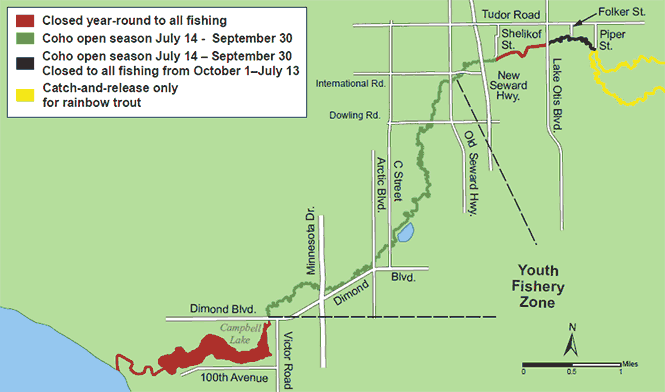 Lake Fishing
Local stocked lakes continue to fish well! Water temperatures in the lakes are cooling off with the rainy weather. Be sure to check the ADF&G Hatcheries and Stocking webpage as select lakes are getting stocked over the next week.
Cheney and Campbell Point lakes have been consistently producing catches of rainbow trout. Anglers are encouraged to cast small lures or wet flies near weed beds or drop offs. Bait under a bobber is also a good option. Surface feeding trout have been spotted on most Anchorage lakes, so fly anglers should make sure to carry dry flies with them whenever they are fishing. Black leeches and baed-head nymphs are alternative options as well.
APU/University Lake and West Chester Lagoon are in the Chester Creek drainage which is currently open to fishing for rainbow trout.

REMEMBER, Chester Creek Drainage is closed year-round to all salmon fishing.
Fishing Tip: To improve your success in local stocked lakes review the lake bathymetry (bottom depth profile) maps online. These maps can reveal structure and other locations where fish may likely be. Often a little walk or getting away from the pack will provide rewards, just be mindful of private property boundaries.
Northern Pike
There are very few opportunities for northern pike in Anchorage as they are not native to the region. ADF&G has taken steps to keep northern pike out of Anchorage area lakes. Lower Fire Lake is the closest place to find northern pike in the Anchorage area.
If you catch a northern pike in the Anchorage area, please contact the ADF&G Division of Sport Fish immediately at (907) 267-2218. Anglers are not allowed to release live northern pike back into the water.
This is the last fishing report for the 2018 season. This fishing report will be updated when additional information is available. For current seasonal information, please contact the Anchorage office at (907) 267-2218.