Division of Sport Fish
Dave Rutz, Director

Anchorage Headquarters Office
333 Raspberry Road
Anchorage, AK 99518

---

Alaska Department of Fish and Game
Doug Vincent-Lang, Commissioner

P.O. Box 115526
Juneau, AK 99811-5526
www.adfg.alaska.gov

---

Advisory Announcement
(Released: August 16, 2021 - Expired: September 06, 2021)

CONTACT: Colton Lipka
Area Management Biologist
(907) 262-9368
Upper Kenai River and Russian River Sanctuary Area Sockeye Salmon Season Extended through September 6
(Soldotna) - The Alaska Department of Fish and Game (ADF&G) is implementing the following sport fishing regulation liberalization by extending the sockeye salmon fishing season for the Russian River Sanctuary Area and waters of the mainstem Upper Kenai River downstream to the powerline. This regulatory change is effective 12:01 a.m. Saturday, August 21 through 11:59 p.m. Monday, September 6, 2021.
The sockeye salmon season for the Upper Kenai River and Russian River sanctuary area is scheduled to close August 20, 2021, but because there are large numbers of sockeye salmon projected to return to the Russian River and a later run timing this year, the season will be extended through Monday, September 6. The season extension applies only to the Kenai River from the ADF&G marker located 300 yards upstream of Sportsman's Landing downstream to the power line including the Russian River sanctuary area. See depicted area in the map below and on page 60 of the 2021 Southcentral Alaska Sport Fishing Regulations Summary booklet. Bag and possession limits for sockeye salmon will remain at six per day and 12 in possession for this area including the Kenai River mainstem downstream to Skilak Lake.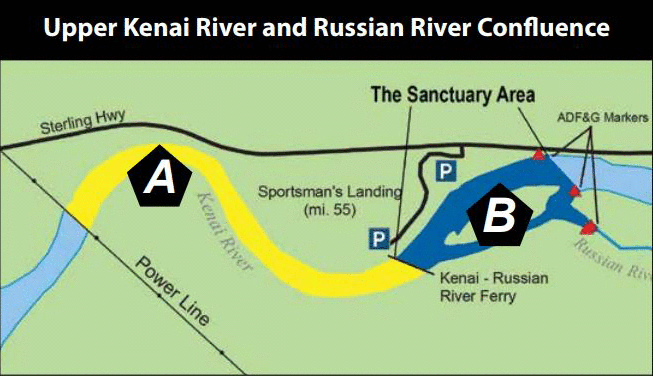 The Russian River upstream of the ADF&G markers located 100 yards upstream of the mouth will close to sockeye salmon fishing as scheduled on August 20, 2021, at 11:59 p.m. Anglers are reminded that the bag and possession limits for coho salmon in the Russian River and the Upper Kenai River/Russian River Sanctuary Area is one per day and one in possession.
"These large passage rates indicate a harvestable surplus of sockeye salmon may be available in the sanctuary area after the normal sockeye salmon sport fishing closure date of August 20," stated Area Management Biologist Colton Lipka.
For additional information, please contact Area Management Biologist Colton Lipka at (907) 262-9368.
#21-3226