(Released: August 01, 2018 - Expired: December 31, 2018)
Division of Sport Fish
Tom Brookover, Director
Anchorage Headquarters Office
333 Raspberry Road
Anchorage, AK 99518


---

Alaska Department of Fish and Game
Sam Cotten, Commissioner
P.O. Box 115526
Juneau, AK 99811-5526
www.adfg.alaska.gov


---
Contact: Matt Miller, Fish and Game Coordinator
(907) 262-9368
Kenai River Closed to Sockeye Salmon Fishing
(Soldotna) – To protect returning sockeye salmon and increased fishing opportunities in the future, the Alaska Department of Fish and Game (ADF&G) is implementing the following sport fishing closure on the Kenai River effective 12:01 a.m. Saturday, August 4, 2018.
The Kenai River is closed to fishing for sockeye salmon from its mouth upstream to the Sterling Highway Bridge at the outlet of Kenai Lake, except those waters of the Upper Kenai River, Russian River, and Russian River confluence areas remain open. The waters of the Russian River confluence remain open to allow anglers to target Russian River sockeye salmon. Please review page 60 of the 2018 Southcentral Alaska Sport Fishing Regulations Summary Booklet for a description of the area. With about 20% of the Russian River late-run sockeye salmon past the weir, the run looks strong with a projection of over 70,000 salmon.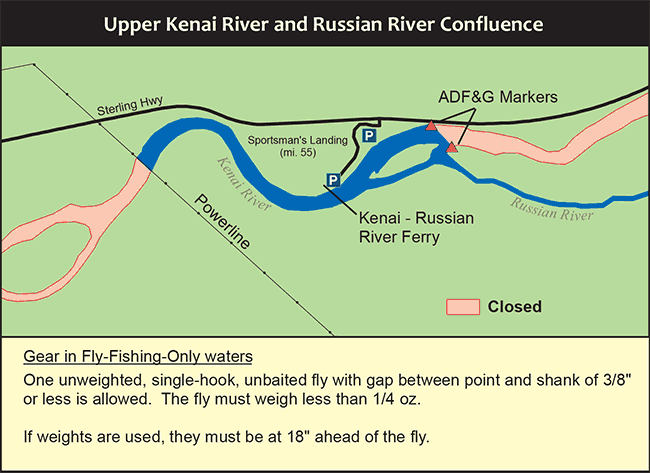 "The department doesn't take this action lightly," stated Sport Fish Cook Inlet Management Coordinator Matt Miller. "This fishery is important economically to the community and important to Alaskans trying to put salmon on the table; but when projections indicate we won't make the escapement goal, we have to take that final action and close the fishery."
On July 24, 2018, ADF&G reevaluated the Kenai River sockeye salmon run and projected the run will be less than 2.3 million fish. Based on the current passage estimate of 434,560 fish through July 30 and run timing of sockeye salmon into the Kenai River, the sustainable escapement goal (SEG) of 700,000 to 1,200,000 Kenai River late-run sockeye salmon may not be met without a reduction in harvest of this stock. Therefore, it is warranted to close the Kenai River sport fishery. The personal use dip net fishery was closed two days early this year and restrictions to the commercial fisheries are being implemented.
For additional information, please contact Cook Inlet Management Coordinator Matt Miller at (907) 262-9368.
#18-2635