(Released: March 06, 2017 - Expired: December 31, 2017)
Division of Sport Fish
Tom Brookover, Director
Anchorage Headquarters Office
333 Raspberry Road
Anchorage, AK 99518


---

Alaska Department of Fish and Game
Sam Cotten, Commissioner
P.O. Box 115526
Juneau, AK 99811-5526
www.adfg.alaska.gov


---
Contact: Richard Chapell, Haines/Skagway Area Management Biologist
(907) 766-3638
2017 KING SALMON SPORT FISHING REGULATIONS FOR HAINES/SKAGWAY AREA MARINE WATERS
The Alaska Department of Fish and Game, Division of Sport Fish announced today the king salmon regulations for the marine waters near Haines and Skagway. They are as follows:
The waters of Chilkat Inlet, north of the ADF&G regulatory marker immediately north of Seduction Point are closed to king salmon sport fishing from April 15 through July 15 (see attached map).

In Section 15-A, the waters of Lynn Canal north of the latitude of Sherman Rock the retention of king salmon is prohibited, king salmon may not be retained or possessed; any king salmon caught must be released immediately and returned to the water unharmed from April 15 through December 31 (see attached map).
The 2017 projected Chilkat River inriver run is 600 large king salmon, which is below the lower end of the goal range (1,850 to 3,600 large fish). The run projection is based on the numbers and ages of Chilkat River king salmon sampled in the spawning escapement and marine harvest, and on sibling survival rates observed in the most recent five years. When the run forecast is below the goal range, the Lynn Canal and Chilkat River King Salmon Management Plan prescribes closing Chilkat Inlet to king salmon sport fishing through June 30. Given poor marine survival rates of Chilkat River king salmon from brood years 2011 and 2012, which will provide the large mature spawning escapement in 2017, these additional fishery restrictions, are needed to increase Chilkat River king salmon escapement.
Commercial fisheries in Lynn Canal and subsistence fisheries in Chilkat Inlet and in the Chilkat River will also be limited in time and area in 2017 to increase Chilkat River king salmon escapement.
For further information concerning this announcement please contact Haines/Skagway Area Management Biologist, Richard Chapell at (907) 766-3638.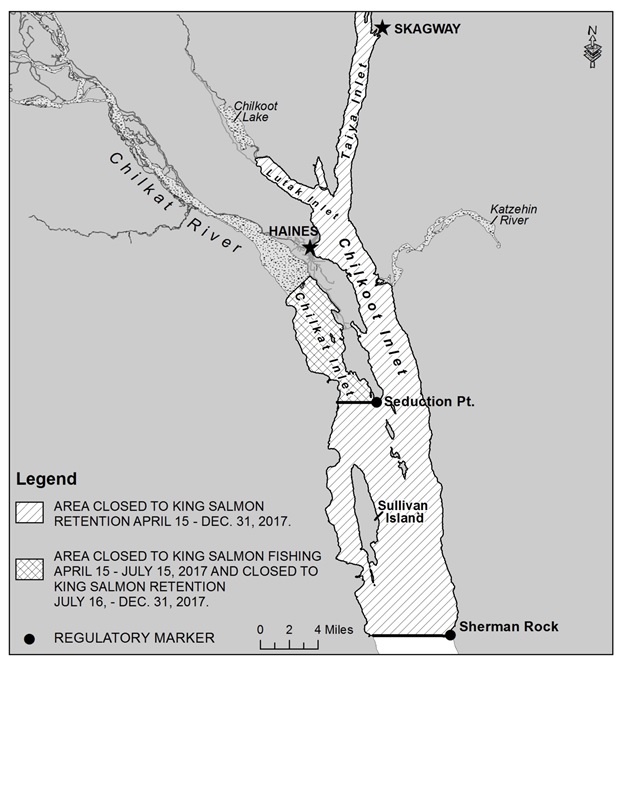 #17-2380