(Released: March 06, 2017 - Expired: June 14, 2017)
Division of Sport Fish
Tom Brookover, Director
Anchorage Headquarters Office
333 Raspberry Road
Anchorage, AK 99518


---

Alaska Department of Fish and Game
Sam Cotten, Commissioner
P.O. Box 115526
Juneau, AK 99811-5526
www.adfg.alaska.gov


---
Contact: Daniel Teske, Juneau Area Management Biologist
(907) 465-8152
2017 KING SALMON SPORT FISHING REGULATIONS FOR JUNEAU AREA MARINE WATERS
The Alaska Department of Fish and Game, Division of Sport Fish announced today the king salmon regulations for the marine waters near Juneau. They are as follows:
In the waters of District 11, and District 15 south of the latitude of Sherman Rock, and District 12 north of the latitude of Point Couverden (see attached map)
From April 15, 2017 through June 14, 2017,
King salmon fishing is closed, retention of king salmon is prohibited, any king salmon caught must be released immediately.
Taku River king salmon, like other Southeast Alaska king salmon stocks, are experiencing a period of low productivity. The 2017 preseason forecast for Taku River king salmon terminal run is 13,300 large fish. This level of abundance is below spawning escapement goal range (19,000–36,000 large fish) and below the management target of 27,500 Taku River king salmon (the midpoint of the spawning escapement goal range). Given the projected low abundance of Taku River king salmon, this action is being taken to conserve Taku River king salmon by restricting sport fisheries in the Juneau area.
For more information please call the Division of Sport Fish Region 1 office at (907) 465-4270.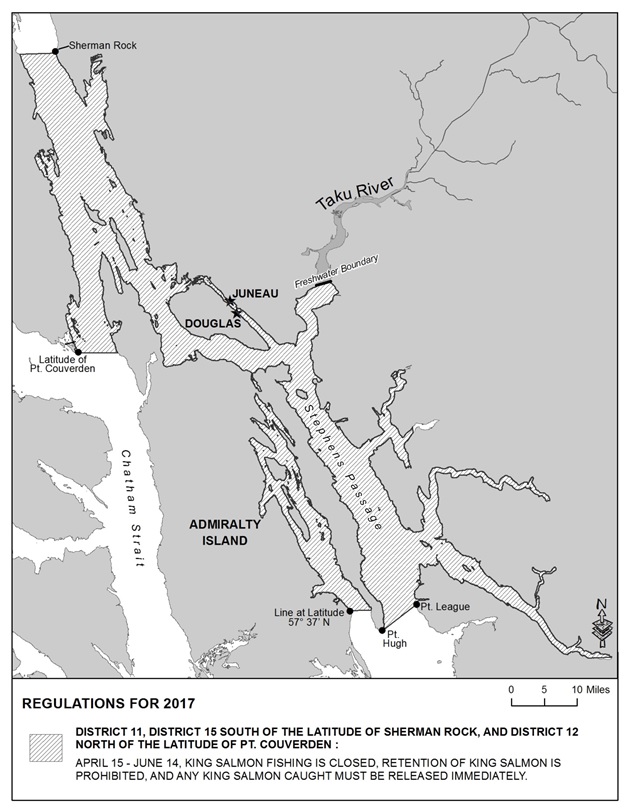 #17-2376