Division of Sport Fish
Dave Rutz, Director

Anchorage Headquarters Office
333 Raspberry Road
Anchorage, AK 99518

---

Alaska Department of Fish and Game
Doug Vincent-Lang, Commissioner

P.O. Box 115526
Juneau, AK 99811-5526
www.adfg.alaska.gov

---

Advisory Announcement
(Released: June 13, 2022 - Expired: July 15, 2022)

CONTACT: Mike Booz
Area Management Biologist
(907) 235-8191
Sport Fishing for King Salmon Closed in Cook Inlet Saltwaters
(Homer) - In favor of protecting returning Cook Inlet king salmon and ensuring sport fishing opportunities in the future, the Alaska Department of Fish and Game (ADF&G) is closing sport fishing for king salmon, including catch-and-release, in all Cook Inlet saltwaters north of the latitude of Bluff Point (59° 40.00' N. lat.). See map below. King salmon incidentally caught while fishing for other fish may not be removed from the water and must be released immediately. This regulatory change is effective 12:01 a.m. Wednesday, June 15 through 11:59 p.m. Friday, July 15, 2022. This change does not affect fishing for other species including halibut. Please review pages 74 and 75 of the 2022 Southcentral Alaska Sport Fishing Regulations Summary booklet for those regulations.
Based on king salmon escapement monitoring in the Kenai, Ninilchik, and Anchor rivers, this year's king salmon runs are well-below average, which has triggered inriver sport fishery closures in these streams and the Kasilof River. Emergency Order 2-KS-1-22-22 closed the early-run king salmon sport fishery in the Kenai River through June 30, 2022. Emergency Order 2-KS-7-24-22 closed the Anchor River and Deep Creek to all sport fishing through July 15. Emergency Order 2-KS-7-29-22 closed the Ninilchik River to all sport fishing through July 15. Emergency Order 2-KS-1-30-22 closed the Kasilof River to fishing for king salmon through July 15.
"Right now, with all indicators we have available, these Cook Inlet king salmon runs are projecting to be the lowest escapements we've seen in all of the Kenai Peninsula streams," stated Area Management Biologist Mike Booz. "Closing king salmon sport fishing in Cook Inlet north of Bluff Point is a conservative approach for maximizing escapement with our local stocks."
For more information, please contact Area Management Biologist Mike Booz or Assistant Area Management Biologist Holly Dickson at (907) 235-8191.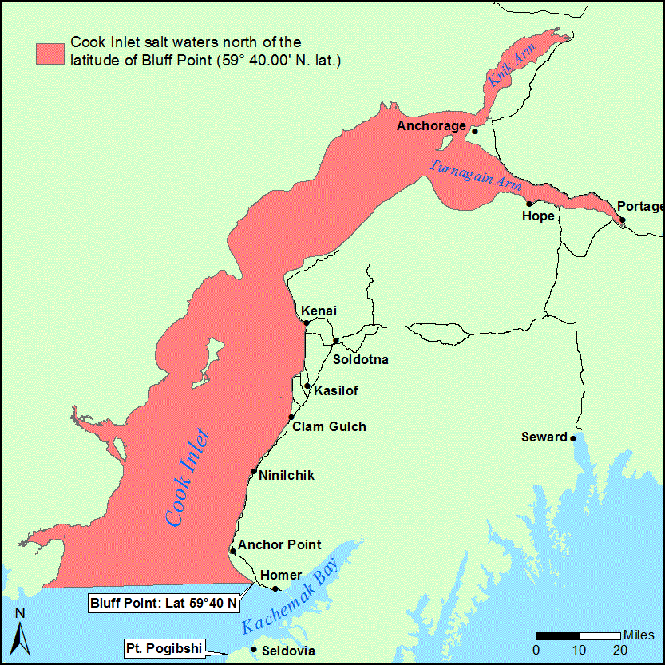 #22-3341