Reel Times Newsletter
September 2020
Issue 33
---
September – Fall fishing at its finest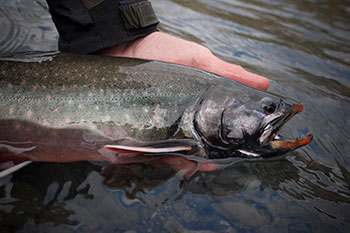 Alaska is known around the world as a premiere sport fishing destination. And for good reason. The state's vast waterways are home to varying species of fish that many anglers seek to target with a rod and reel. Salmon, steelhead, northern pike, sea-run Dolly Varden, halibut and rockfish are just a few of the sought-after species of fish Alaskan anglers pursue.
In this issue of Reel Times, we'll take a look at some foreign fish species that have made their way into Alaska waters through illegal introductions. This is an ongoing problem and can have detrimental impacts on native populations. We also highlight a few off-the-beaten path locales where big pike and big Dolly Varden can be targeted.
September is a great month to get out and fish.
The submission period for photos for the 2021 sport fishing regulation summary books is now open. You'll find details below. Additionally, we'd like to hear your thoughts on Reel Times. You'll find a link to a brief survey below.
Are you following us on social media? If not, be sure to check us out on Instagram @wefishak. You can also follow us on Facebook at ADF&G - wefishak. We also have a YouTube channel where there is a growing collection of fishing-related videos.
While you're out there targeting the catch of the day, be sure to practice social distancing from any fellow anglers you may encounter and follow the Governor's heath mandates.
If you have a comment or story ideas for Reel Times, we encourage you to send them our way. You can send comments to ryan.ragan@alaska.gov.
We'll see you on the water.
Division of Sport Fish
Alaska Department of Fish and Game
Pour yourself a cup of ambition…and go Dolly Varden fishin'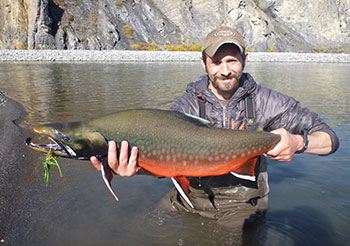 Every year, people from all over the world contact ADF&G for information to plan a trip to northwest Alaska to fish for huge Dolly Varden. Anadromous Dolly Varden can grow big in the north (the world record fish of 27 lb, 2 oz was caught on the Wulik River in 2002) and it is not uncommon to catch fish over 12 pounds in late-summer and fall. But really, there's two different ways to go about a northwest Alaska Dolly Varden trip. If it's warmer weather, beautiful scenery, and Dollies in spawning colors you want, then it's a trip in July and August to the Noatak River that you want to take. If it's high catch rates, really big fish, and maybe a caribou or moose you want as well, then September on the Wulik River would be your best choice.
The Noatak River supports the largest spawning population of Dolly Varden in northwest Alaska, with about 10,000-30,000 fish every year moving up into the tributaries throughout the drainage. Dolly Varden spawn at about age-7 and unlike Pacific salmon, can live to spawn two or three times. Dollies generally begin to arrive on the spawning grounds in mid-July, with the final fish arriving in late-August and into September. After spawning, Dollies move downstream to overwinter in the lower reaches of the Noatak, but some will leave the Noatak River altogether and overwinter in another river (Dollies spend winters in freshwater, as the water under the ice in the Chukchi Sea gets slightly below 0°C). These spawning fish can get the brilliant orange, green, and black coloration, and males can develop a large hooked jaw (kype) with which to chase off competing males. While they don't feed before spawning, they can be quite aggressive and will chase a lure or fly readily. And although the spawning coloration of the Dolly Varden makes them quite photogenic, these fish typically are not the best eating and are best returned to the water.
Just up the coast in the nearby Wulik River, the story is quite different. The Wulik is a much smaller river with just 1,000-2,000 spawning fish, however the prevalence of clear water and multiple springs makes it an overwintering destination for Dolly Varden from all over the North Pacific. Tagging studies have shown that Dolly Varden that use the Wulik River for overwintering can travel all over Norton and Kotzebue sounds, and Dollies tagged in the Wulik River have been recovered up the Anadyr River, over 1,000 miles away. Most of these overwintering fish in the Wulik River are ocean bright, fat, and healthy, making them an excellent choice for a shore lunch. Flying in from Kotzebue you can sometimes see thousands of fish parked in the deeper pools. Aerial surveys conducted by ADF&G each fall via helicopter indicate that in some years well over 100,000 fish are counted in a 25-mile stretch of river. Fishing for overwintering Dolly Varden can be hit and miss as the fish can be less than aggressive at times, but it is not uncommon to have 30-fish days when the bite is on.
For both spawners and non-spawners, Dollies can be caught on all kinds of spinners, spoons, and jigs. Green seems to be the best color, but bring several just in case. Fly fishing in shallow water can be productive with large leech, wooly bugger, and muddler minnow patterns. A large, garish streamer called a Dolly Llama is the go-to fly for many Dolly Varden enthusiasts. The occasional Arctic grayling can be caught on the same gear as the Dolly Varden.
Most anglers who fish the Noatak and Wulik rivers fly commercial airlines to Kotzebue and then fly to the river using one of the charter pilots from town. Some charters even rent rafts and camping gear. While it can be hard to choose which fishing experience to pick for you, one thing for sure is that there is not a bad choice here!
Feisty and Fun, Fishing for Northern Pike in the Yukon River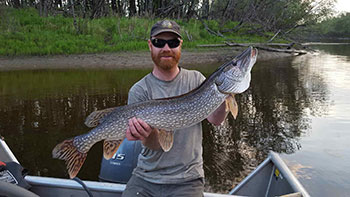 Northern pike (Esox lucius) are found throughout the circumpolar north. These fish are distinguished by having an elongated body and head with a broad, flat snout shaped somewhat like a duck bill that is armed with many sharp teeth. Northern "pike" gets its common name from the long thrusting spear used by infantry in the late Middle Ages. Pikes were used regularly in European warfare and were wielded by foot soldiers deployed in close quarters, until their replacement by the bayonet.
Northern pike are found throughout the Yukon River drainage and popular sport fisheries are found in the Tanana, Koyukuk, Porcupine, Dall, Nowitna, and Innoko rivers. The Dall, Nowitna, and Innoko rivers are especially known for having very large northern pike. The state sport fishing record is a 38 lbs. (17 kg) fish caught in 1991 on the Innoko River. It is not unusual to capture fish larger than 30 inches in these three rivers.
Northern pike are aggressive feeders that can be found lurking in back eddies and grassy sloughs, patiently waiting to ambush their pray. Upon seeing their prey, these fish are capable of sudden, quick acceleration. Adult northern pike eat other fish, although very large adults have been documented eating small mammals like voles and shrews and small waterfowl like baby ducks. Once a bald eagle chick was found in the stomach of a large female northern pike! Northern pike will also target their own young.
Most fishing for northern pike occurs during the open water season. Northern pike spawn in the spring soon after ice-out. Due to the relatively close proximity of the Dall river to the Dalton Highway and therefore higher fishing pressure, sport fishing for northern pike is closed prior to May 20th in order to not cause adverse mortality on spawning fish. Most of the sport harvest of northern pike is taken with hook and line, although spearing is allowed, unless otherwise stated in the sport fishing regulations. Fishing guides who operate on the Innoko and Nowitna rivers report that during late summer as the days shorten and become cooler, fewer but larger fish are typically caught. Sport fishers have reported similarly at the mouth of the Dall River.
Popular lures that fishers use to capture northern pike include buzzbait, booyah, jitterbugs, shiny spoons, and shads that mimic juvenile prey. A popular and successful shad is the baby pike. Surface lures such as mice and frogs are also good at catching northern pike, especially in and near weeds. It is fun to watch a surface lure skim through a weedy area with a sharp V wake coming seemingly out of nowhere to get it. One can almost hear the theme from Jaws! Possessing rows of sharp teeth necessitate using wire leaders and strong line to land these feisty predators. Also important is a good pair of pliers to take the hook out of a northern pike's mouth. It is also good to have a spreader on hand for larger fish because putting one's hand down the mouth of a large northern pike with very sharp teeth can risk serious injury.
With the coming of autumn as water levels drop and ambient temperatures near zero, northern pike will move to overwintering areas in lower river tributaries, lakes, or the mainstem Yukon River. Sport and subsistence harvest in the Yukon River drainage also occurs during winter months through the ice with hook and line gear. Always consult the sportfish regulations for where and when you plan to fish for northern pike as these will vary for different drainages and areas throughout the Yukon River.
Fishing for these feisty and toothy predators is fun and in some Yukon River tributaries such as the Innoko, Nowitna, and Dall rivers northern pike can get quite large. Therefore, it is imperative to follow the sport fishing regulations and not harvest more than you need. Also, because fish like northern pike typically grow and reproduce more slowly at high latitudes and elevations, please use proper techniques when engaging in catch-and-release fishing in order to ensure survival of the released fish such as:
Use lures with a single hook and crimp down the barb. Do not use bait.
Land the fish with a soft net and keep the fish in the water when removing the hook.
To release the fish, hold it gently facing into the current or in water without current, gently cradle the fish and move it slowly back and forth until it swims away under its own power.
More information on proper catch-and-release techniques can be found at: www.adfg.alaska.gov/index.cfm?adfg=fishingSportFishingInfo.release
Other online resources on fishing for northern pike, caring for the catch, recipes, etc. can be found at: www.adfg.alaska.gov/index.cfm?adfg=northernpike.resources
There is a good brochure (pdf) at this location on "How to fish for & fillet pike, recipes"
A good article on ice fishing for northern pike during the winter can be found at: http://www.adfg.alaska.gov/index.cfm?adfg=wildlifenews.view_article&articles_id=754
Happy Fishing!
Don't let 'em Loose
By Kristine Dunker and Tammy Davis, ADF&G Invasive Species Program
In the last few years, Alaska has experienced quite a deluge of non-native species introductions, several stemming from suspected aquarium releases into Alaska waters. Since 2018, ADF&G has discovered muskies and fathead minnows on the Kenai Peninsula, and largemouth bass and goldfish in Anchorage lakes. Earlier this year, a man was charged with illegally planting rainbow trout from a hatchery in Oregon into a Kenai Peninsula lake.
These examples are in addition to the on-going problems from illegal introductions of signal crayfish in Kodiak, northern pike and Alaska blackfish in Southcentral, and the aquatic plant elodea which has been spread statewide. The elodea problem likely began in Alaska with someone dumping the entire contents of their aquarium. We believe this is how crayfish ended up in the Buskin drainage and how fathead minnows and goldfish came to be established as well. The infamous largemouth bass found a few years back in Anchorage's Sand Lake likely originated in someone's home aquarium too. Luckily, there is no evidence of a continued bass population here, but that wasn't the case with the fathead minnows and goldfish.
Last year, ADF&G invested substantial time, effort and money to eradicate fish that had been intentionally released and were able to establish prolific populations. Illegal introductions of fish and other aquatic critters remains an on-going problem.
In late August, two more peculiar species were discovered in two separate waterbodies in Southcentral. Thanks to reports by members of the public, a zebra moray eel was found in Wasilla Creek, and a flowerhorn cichlid was discovered in Lake Hood in Anchorage. In both instances the fish were found deceased, but at one time, they must have been someone's pets.
Zebra morays are native to Hawaii and waters of the Indo-Pacific. They are marine species that would not survive in the freshwaters of Wasilla Creek. Flowerhorn cichlids are hybrids produced in the aquarium trade from cichlid species native to SE Asia. There is no natural mechanism by which either of these aquarium fish ended up here. If the pet owners had intended to free their pets, their intentions were misguided…and illegal.
In Alaska, it is against the law to transport and release live fish into waters of the state. The penalties can be severe: up to a $20,000 fine plus the cost to remove all non-native fish and restore the waterbody. This may sound hefty, but it is for good reason. Illegal fish introductions significantly threaten the health of our native fish populations through competition for resources, spread of parasites and pathogens, and potentially introducing new predators to our ecosystems. For species that can survive here such as the elodea, crayfish, muskies, bass, fathead minnows, goldfish, pike, and blackfish mentioned above, there is great potential for the species to become invasive when negative environmental or economic consequences follow their introductions. For northern pike in Southcentral *, this has certainly been the case in many waters.
Despite it being illegal to release live fish in Alaska and the potential environmental and economic consequences of doing so, it is inhumane for your pets. Most aquarium species wouldn't survive Alaska's colder waters. Perhaps some of them could survive for a short time during a warm summer, but eventually, they'd slowly starve and succumb to the winter or quickly become a tasty meal.
If you have an aquatic pet you no longer want, there are far kinder options. Try to re-home it. If that doesn't work, many local pet stores will accept unwanted pets. Check with your local humane society and if all else fails, put it in a Ziplock bag with just a little bit of water and place in the freezer. This will put it down much quicker and safer. Most importantly, please protect Alaska's prized fisheries and never transport and release live fish into waters of the state.
If you do happen to find any unusual organisms while fishing or recreating that looks like it doesn't belong in the waterbody you are visiting, please report it right away to ADF&G Invasive Species webpage or by calling the Invasive Species Hotline at 1 (877) INVASIV (468-2748).
If you have any questions or comments, please contact the ADF&G Invasive Species Program Coordinator Tammy Davis at tammy.davis@alaska.gov or (907) 465-6183.
* Northern pike and Alaska blackfish are native to interior and western Alaska, but do not naturally occur in Southcentral.
Send us your best shot!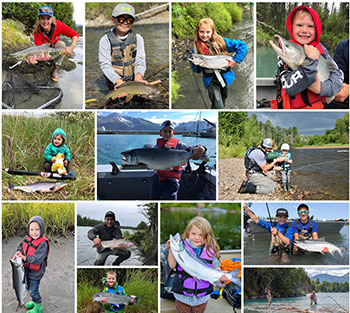 We are receiving a lot of great photo entries for our 2021 Sport Fishing Regulations Summary book cover photo contest!
You still have plenty of time to enter your top three fishing photos from this season! Send us those best shots.
Remember, photos submitted without a Media Consent Release Form will not be accepted. So, before you email the photos (as attachments), make sure the media form is completed and signed, and you provide the name of the waterbody the fish was caught.
Layout restrictions apply to the front cover that only horizontal photos will be considered. Vertical and horizontal photos will be considered for inside pages and there is no age requirement.
Up to three photos may be entered and all entries must be received by 5:00 p.m. Saturday, October 31, 2020. Only photos accompanied by a completed Media Consent Release Form will be considered.
Please email all photos and a completed and signed Media Consent Release Form to the appropriate region where the fish was caught to the following individuals:
Northern Alaska
Southcentral and Southwest Alaska
Southeast Alaska
For more information on the contest, please visit our photo contest webpage.
Let us know what you think about Reel Times
We would like to hear from you about your experience with Reel Times. Please complete this short survey if you would like to share your thoughts with us. https://www.surveymonkey.com/r/ReelTimes
If you have already completed the survey it is not necessary to complete it again.
Thank you for your participation.
Reel Adventure – Go fishing for coho salmon
September is a great month to target coho salmon. This online forum covers a variety of tips and techniques. https://www.youtube.com/watch?v=wh2rgeB2IHY
Field to Plate – Recipe of the Month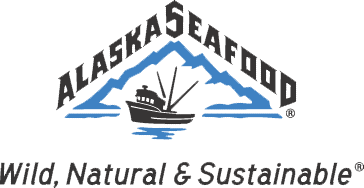 Alaska Salmon Marsala
Need a dinner idea? Try preparing some of your tasty catch with this recipe from our friends at the Alaska Seafood Marketing Institute: https://www.wildalaskaseafood.com/recipesdb/?recipeId=NTY4
If you have any questions about the Reel Times newsletter, please contact Ryan Ragan at ryan.ragan@alaska.gov