Alaska Department of Fish and Game
---
Secondary Site Navigation
Management & Research
The Alaska Department of Fish and Game maintains active and comprehensive management and research programs to ensure fish and wildlife populations are "utilized, developed, and maintained on the sustained yield principle," in accordance with Alaska's Constitution.
ADF&G fish and wildlife management and applied research activities include:
monitoring and actively managing wildlife populations;
fisheries stock assessment and development of salmon escapement goals;
applications of genetic and pathology methods;
researching health parameters;
monitoring and rehabilitating habitat; and
determining how much water is needed to support fish and wildlife.
In addition, monitoring and evaluating statistics on human uses can provide opportunities to meet diverse resource needs in Alaska. Management and research of fish and wildlife is carried out by five divisions in the department: Commercial Fisheries, Sport Fish, Subsistence, Habitat, and Wildlife Conservation. We also partner with Alaska tribes; state, federal, and municipal agencies; and other organizations to conduct research, monitoring, permitting, and access for resource use and development.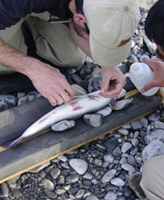 Alaska's fisheries are managed for sustained yield that maximizes benefits to users of the resources through a public process that is driven by those users. Management decisions are informed by research which is conducted using the best available science.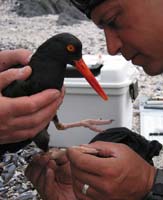 Wildlife research projects use the best possible methods to count wildlife and estimate trends. Projects vary widely to meet management goals and ensure long-term, sustainable populations for beneficial uses such as hunting and viewing.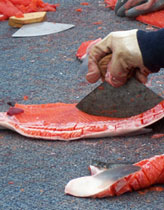 Subsistence research applies the methods of the social sciences, especially cultural anthropology, to investigate the many dimensions of subsistence uses of fish and wildlife in Alaska.
Habitat research is focused on the identification of fresh water fish habitats affected by development projects. Biologists monitor stream health indicators and measures put in place to offset unavoidable impacts.