Wildlife Conservation Community Program
The Kenai Peninsula has a public/wildlife safety problem.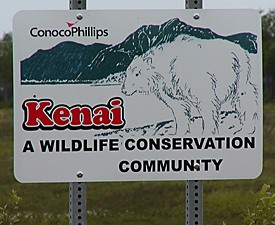 Here in Alaska we live, work, and play in bear country. The Alaska Department of Fish & Game, State Troopers, federal agencies, and municipal police departments all respond to calls concerning negative human/bear interactions. Many of these interactions occur in residential areas. Food sources which are unwittingly or negligently provided by humans often lure bears into these residential areas.
Hungry Bears on a Budget
Bears need to eat enough food to sustain them through their winter hibernation. They will readily use food sources that offer them the most energy while costing them the least amount of effort. Humans often provide bears with very low-effort, easily accessible food sources in the form of: garbage, bird seed, dog food, fish carcasses, fish in smokers, livestock and their feed.
What can you do to help keep your neighborhood safe?
If you live within the city limits of a municipality, participate in the Wildlife Conservation Community Program (WCCP).
A Fed Bear is a Dead Bear
For many people, wildlife is synonymous with Alaska. In residential areas, a bear's easy access to human-provided food creates a safety hazard for humans, their domestic animals and other property, and for the bears themselves. Bears that use these easy food sources are often killed in defense of life and property (DLP). As human development and recreational activity on the Kenai Peninsula has increased, so have the number of DLP instances. There is a solution!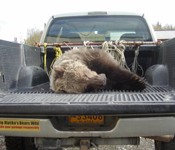 If you live in other areas of bear country, you can help keep your home and neighborhood safe by using electric fencing around livestock, smokers, and outdoor freezers and by keeping other food sources in buildings or bear-resistant containers.
What is the Wildlife Conservation Community Program (WCCP)?
A highly successful Bear-Safe Neighborhood pilot project initiated within the City of Kenai Alaska served as the template for the WCCP. Partnerships were forged between government agencies, non-profits, businesses and local community members. Grant money was used to purchase bear resistant garbage containers which were provided at no cost to the residents of the project neighborhood. As a direct result of these efforts, the volume of nuisance bear calls significantly decreased This led to a safer neighborhood for people and wildlife, better public stewardship of wildlife resources, and less agency time spent dealing with nuisance wildlife.
Based on these positive results, in spring of 2006 the City of Kenai voted to expanded these efforts to a city-wide effort called the Wildlife Conservation Community Program. Grant money and in-kind donations were used to administer the program, inform residents on how to live safely in bear country and to buy bear-resistant garbage cans and dumpster lids.
Bear-resistant containers
The containers, which retail for approximately $200, were made available to city residents at a reduced cost of $50. Using these containers helps keep bears (and other wildlife) from gaining access to easy food sources.
Information and education
Highway signs were erected identifying the City of Kenai as a Wildlife Conservation Community. Information was made available for residents and visitors on how to keep ours communities safer for people and wildlife.
Get involved. You can make a difference!
For more information contact:
Larry Lewis
Alaska Department of Fish and Game
Division of Wildlife Conservation
907-260-2931
larry.lewis@alaska.gov