Kenai Brown Bear Committee

Safety Around the Home
If you live or recreate on the Kenai Peninsula you are in bear country and it is important that you EDUCATE YOURSELF on how to live in harmony with bears. To increase safety and to decrease the defense of life or property (DLP) killings of brown bears, the recommendations of the Kenai Brown Bear Committee (KBBC) can be viewed as you explore this page and its links.
Bear Attractant Education
This section shows some of the products of the KBBC. Look and listen to learn how to do your part to keep our neighborhoods safe and our bears wild.
Mailer
The most common bear attractants are garbage, pet food, livestock and their food, bird food, and fish carcasses. The KBBC designed the below to help you to manage your bear attractants responsibly.
Pet Food, Bird Food, and Livestock and their Food
The KBBC advises that you keep all animal food securely indoors. If this is not possible, store the food in secure bear-resistant containers. Electric fencing can be effective in keeping brown bears away from livestock and their food. To learn more on how to manage animal food and livestock click on the relevant side links and the Public Service Announcements (PSA) found in the links below.
Human Food
Residents are asked to secure their chest freezers and refrigerators indoors (not on decks or porches). Fish smokers and Barbeques should be cleaned and secured indoors after use. While recreating be sure to keep all food items and coolers closely attended to.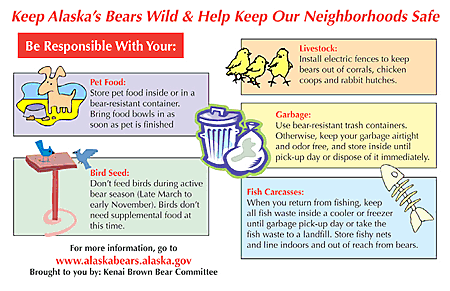 Fish Carcasses and Remains
It is important to minimize bear/human conflicts in your neighborhood by properly disposing your fish carcasses when you return from a successful day of fishing. The KBBC recommends that you put the remains in a bear-resistant container or keep them in the freezer until just prior to trash removal. To learn more on how to manage fish carcasses click the relevant side links and listen to the fish carcass PSA found in the links below.
Garbage and Transfer Sites
You can increase the safety of your neighborhood and decrease DLP bear killings by responsibly storing and disposing your garbage. Keep garbage properly secured in bear-resistant containers or indoors until just prior to garbage collection or disposal at the waste transfer site. At the transfer sites make sure that your garbage goes into the container. To learn more about how to responsibly store garbage go to the relevant side links and listen to the PSAs found in the links below.
Public Service Announcements
Three television commercials and five radio public service announcements (PSA) were produced by the KBBC. You can learn more about the most common bear attractants and what you can do to minimize bear/human conflicts by listening to your radio and television stations.