Alaska Department of Fish and Game
---
Secondary Site Navigation

Alaska Department of Fish and Game
Alaska Department of Natural Resources
U.S. Fish and Wildlife Service
U.S. Forest Service
U.S.G.S. Biological Resources Division
Interagency Forest Ecology Study Team - INFEST
---
Moose and Forests
The primary limiting habitat component for moose is usually the availability of high quality forage. Moose rely on woody forages, such as willow, aspen, and birch, that are most abundant on sites in the early stages of forest succession.
Because of the large body size of moose, temperatures rarely reach lows cold enough to require thermal cover for adult moose. Conversely, however, moose may require cover during spring and summer when temperatures rise enough to cause moose to overheat; female moose tend to prefer dense vegetation to provide hiding cover for calving.
Disturbances that destroy maturing forest can be beneficial to moose if they provide for regeneration of the early successional vegetation species that moose require as forage. Such disturbances include wildfire, prescribed fire, logging that includes soil scarification, flooding, as well as other human activity that alter the composition of the forest.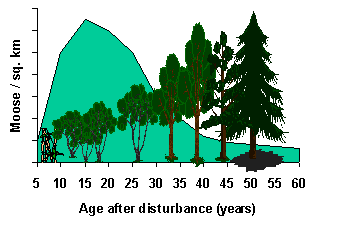 Widespread stands of mature spruce killed by bark beetles will likely have either a positive or negative effect on moose depending on the processes that occur subsequently. Stands with a browse understory that benefit from the opening of the canopy and increased sunlight may produce more moose forage. Stands with a grass understory provide little benefit to moose. Regeneration of woody browse generally requires that mineral soil be exposed by natural or human-caused disturbances that remove the organic layer (e.g., fire, windthrow, and timber harvest that includes scarification).
Selected References:

Collins, W. B. 1996. Wildlife habitat enhancement in the spruce-hardwood forest of the Matanuska and Susitna River Valleys. Alaska Department of Fish and Game. Federal Aid in Wildlife Restoration Final Report, Proj. W-23-5, W-24-1, W-24-2, W-24-3, Study 1.44, Juneau. 52 pp.

Collins, W. B., and D. J. Helm. 1997. Moose (Alces alces) habitat relative to riparian succession in the boreal forest, Susitna River, Alaska. Canadian Field-Naturalist 111:567-574.

Loranger, A. J., T. N. Bailey, and W. W. Larned. 1991. Effects of forest succession after fire in moose wintering habitats on the Kenai Peninsula, Alaska. Alces 27:100-110.

Oldemeyer, J. L., and W. L. Regelin. 1987. Forest succession, habitat management, and moose on the Kenai National Wildlife Refuge. Swedish Wildlife Research Supplement 1:163-180.

Prepared by Tom Stephenson - March 1998