Alaska Department of Fish and Game
---
Secondary Site Navigation

Alaska Department of Fish and Game
Alaska Department of Natural Resources
U.S. Fish and Wildlife Service
U.S. Forest Service
U.S.G.S. Biological Resources Division
Interagency Forest Ecology Study Team - INFEST
---
Spruce Beetle Facts
The spruce bark beetle is the major tree killing insect pest of Alaska spruce forests.
Historically, most spruce beetle outbreaks have been and are occurring throughout south-central and interior Alaska's Lutz and white spruce forests. From 1920, more than 4 million acres of spruce stands have been infested to varying degrees. More than 1 million acres of on-going and new infestations were detected in 1996.
It appears that the current infestations have increased substantially in recent years and likely will maintain, if not increase, in magnitude.
Approximately 50% of the infestations mapped in 1996 occur on the Kenai Peninsula with the remaining occurring on the west side of Cook Inlet and throughout the Copper River Basin.
Net 10-year average annual growth of Kenai Peninsula Lutz spruce stands managed by the USDA Forest Service is negative, indicating that mortality exceeds annual growth.
The spruce beetle is responsible for over 90% of the total insect-caused mortality on the Kenai Peninsula, up from 57% during the five year period before 1987. More than 70% of the insect-caused mortality is on forest lands producing or capable of producing at least 20 cubic feet per acre per year.
The current infestations on the Kenai Peninsula and in the Copper River Basin are epidemic. Halting these infestations soon is unlikely, but concerted efforts can significantly minimize impacts to high valued areas.
White, Sitka, and Lutz spruce are commonly attacked by the spruce beetle. Black spruce is rarely attacked.
Infestations have occurred primarily in older, slower growing spruce. Small diameter, rapidly growing trees are least susceptible to attack.
Susceptibility to infestations increases when a forest is composed of more than 70% spruce over 12" in diameter with a slower than average growth rate.
Most spruce beetle outbreaks in standing spruce originate in windthrown trees. Large beetle populations emerge from this highly productive breeding material and move into standing trees. Right-of-way clearing debris also serves as attractive breeding material for spruce bark beetles.
Spruce beetle outbreaks are controlled by a combination of predation (woodpeckers), climate (wet, cool springs; extremely cold, snowless winters), and food supply (they "run-out" of large diameter trees; beetle brood production is poor in small diameter trees).
Infestations may result in changes in aesthetic value of the forest; changes to wildlife habitat, increased fuel loading, reduced timber values, reduced regeneration of forest tree species.
Spruce requires a seed source and site disturbance for optimal regeneration. Site disturbance is not occurring in many of the infested stands due to fire suppression and minimal management activities. Moreover, in areas of heavy tree mortality, seed sources are being eliminated.
Several tools are available that can help reduce the long term impact of the spruce beetle on Alaska's forest resources and include; use of risk and hazard rating systems; appropriate treatment of down host material (blowdown); and silvicultural treatments including stand conversion or improvement.
The most generally accepted treatment to reduce hazard and risk of spruce beetle damage is to maintain a mosaic of tree species and age classes. The most plausible solution is active ecosystem management and appropriate silvicultural techniques to create a future desired mosaic.
Selected References:
Daniel, T.C., Orland, B., Hetherington, J., and J.L. Paschke. 1991. Public perception and attitudes regarding spruce bark beetle damage to forest resources on the Chugach National Forest, Alaska. Final Report prepared for USDA Forest Service, Forest Pest Management, Alaska Region. 36 pp.
Hard, J.S.; Holsten, E.H.; R.A. Werner. 1983. Susceptibility of White Spruce to Attack by Spruce Beetles During the Early Years of an Outbreak in Alaska. Can. Journ. For. Res. Vol. 13:678-684.
Holsten, E.H.; Thier, R.; J.M. Schmid. 1991. The Spruce Beetle. FI&DL No. 127. USDA For. Serv. 12pp.
Reynolds, K.M.; E.H. Holsten. 1994. Estimating Priorities of Risk Factors for Spruce Beetle Outbreaks. Can. J. For. Res. Vol. 24:3027-3033.
Holsten, E.H.; Werner, R.A.; DeVelice, R.L. 1995. Effects of a Spruce Beetle (Coleoptera: Scolytidae) Outbreak and Fire on Lutz Spruce in Alaska. Environ. Entomol. 88(6):1539-1547.
Reynolds, K.M.; E.H. Holsten. 1996. Classification of Spruce Beetle Hazard in Lutz and Sitka Spruce Stands on the Kenai Peninsula, Alaska. For. Ecology and Management. 84:251-262.
Holsten, E.H. 1990. Spruce Beetle Activity in Alaska: 1920-1989. USDA For. Serv., Alaska Region, State and Private Forestry, FPM Tech. Rpt. R10-90-18. 28 pp.
van Hees, W.W.S. and F.R. Larson. 1991. Timberland Resources of the Kenai Peninsula, Alaska, 1987. USDA Forest Service, PNW Research Station, Resource Bulletin PNW-RB-180. 56 pp.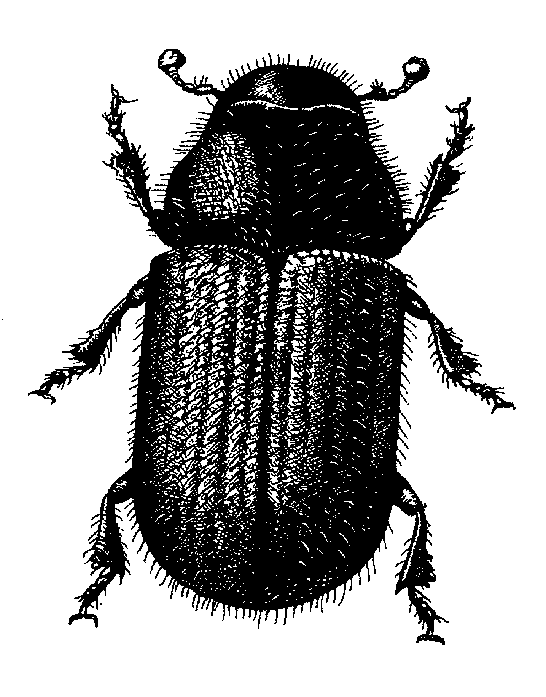 Prepared by Ed Holsten - March 1998