Alaska Department of Fish and Game
---
Secondary Site Navigation
Fire Ecology in Alaska

Fire Management
Who Makes the Decisions?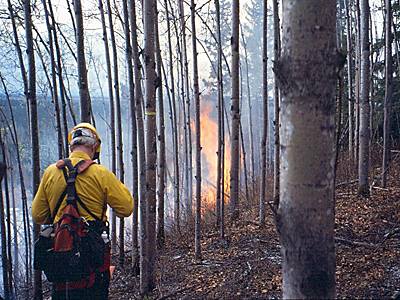 Recognition of fire as a management tool in Alaska has grown over the past 20-35 years. Meetings between agencies, natural resource managers, scientists, and the public gradually led to the adoption of an updated fire management policy and plans. The Alaska Wildland Fire Coordinating Group (AWFCG) oversees the coordination and direction of the interagency wildland fire management efforts in Alaska. The AWFCG has completed the long-term project to amend the 13 Area Specific Alaska Interagency Wildfire Management Plans into one plan. This effort was undertaken to eliminate the need to refer to three documents to fully understand wildland fire operations in Alaska, to incorporate operational changes, to clarify the language of the plan and to update terminology. The organization of the original area-specific plans required most local land managers/owners to use their local interagency fire management plan and refer to the Alaska Interagency Fire Management Plan, Tanana/Minchumina Plan and the 1984 amendment to the interagency plans. The 1998 amendment entitled, "Alaska Interagency Wildland Fire Management Plan" provides the land owners/managers one document to guide their management options, responsibilities, and operation of wildland fire management in Alaska. This makes it much easier for Alaska fire suppression organizations to deploy their limited resources in the heat of battling wildfires. The 1998 amendment contains the common elements of the area-specific plans. It does not change the intent of the area-specific plan nor does it change any landowners'/managers' fire management option selections or any fire protection option boundaries. The landowners'/managers' responsibilities and ability to determine how fire will be managed on their lands has not changed. Other than having one document to use, there should be no noticeable change to the land owners/managers.
The Coordinating Group is made up of representatives from federal agencies, the State of Alaska, Alaska Native organizations, and local governments.
The Alaska State agencies involved include:
Department of Fish and Game (ADFG)
Department of Natural Resources (ADNR)
Department of Environmental Conservation (ADEC)
The federal agencies involved include:
US Fish and Wildlife Service (USFWS)
Bureau of Land Management (USBLM)
National Park Service (USNPS)
Forest Service (USFS)
Bureau of Indian Affairs (USBIA)
Specific native organizations as of 1999 are :
Chitina Village Traditional Council
Chugachmiut Inc.
Tanana Chiefs Conference
The Alaska Interagency Wildland Fire Management Plan establishes four fire management options for determining initial attack priorities and responses. Using these management options in cooperative planning efforts ensures that:
Human life, private property, and identified resources receive an appropriate level of protection with available firefighting resources.
The cost of suppression effort is commensurate with values identified for protection.
The ability of land management /owner (s) to achieve their individual management objectives is optimized.