Alaska Department of Fish and Game
---
Secondary Site Navigation
Fire Ecology in Alaska

Frequently Asked Questions
Aren't fires bad for wildlife?
Not really. The immediate effects of fire may be harmful to some individual animals depending on the time of year it occurs, the fire intensity, the species of wildlife and the weather. In some instances animals die in wildfires. However, if viewed in the larger ecological context, the benefits of wildfire far outweigh any harm they cause to wildlife . Fire is a natural process in the boreal forest. The plants and the animals rely on fire to maintain a natural balance of vegetation and wildlife abundance. Without habitat mosaics created by fire throughout the boreal forest, many species would not exist. For more information about the affects of fire on specific wildlife species go to Effects of Fire on Wildlife Populations (USFWS)
Smokey Bear said that fires are bad. Why the sudden change?
We all remember the message Smokey delivered. That "only you can prevent forest fires". The fact is that we can not prevent all forest fires. We can prevent human-caused forest fires but not natural wildfires. In Alaska lightning starts about 200 fires per year and humans are responsible for about 400 more. Human-caused fires can be very destructive because they often occur near human inhabited areas during the hottest times of the year and have the potential to destroy life and property. For more information go to Effects of Fire on Wildlife Populations (USFWS)
Over the past 30 years, wildlife biologists and fire ecologists have learned that fires are indeed important to the ecosystem. Some tree species, forests, and animals are even fire dependent. The former policy of suppressing all wildfires has changed; now wildfires are placed into management categories. Fires that threaten human life and property are fought aggressively. On the other end of the management spectrum, fires that pose no threat, or are deemed beneficial to the ecosystem are left to burn under surveillance. See "Fire Management"
So in a way Smokey is right. We should prevent human-caused accidental fires. Over the years, however, his message was construed to mean "all fire is bad" and this simply is not true. We need wildfire.
How many acres burn in Alaska each year?
This varies from year to year but in general hundreds of thousands of acres burn.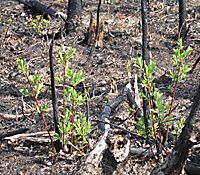 What are some of the benefits of fire?
Unlocks valuable nutrients and return them to the soil to be used by new vegetation
Creates various stages of vegetative growth necessary to many species of wildlife
Creates a habitat mosaic across the landscape - this means greater wildlife diversity
Reduces fuel buildup that may prevent more serious fires from occurring in the future
Creates breaks in the vegetation (discontinuous fuel source) which may prevent advancement of future wildfires or make fire fighting near communities less risky
With all the fires in Alaska why does ADFG still need to use prescribed burns as a management tool?
In the Tanana Valley near Fairbanks, many areas are not allowed to burn by wildfires because of their potential threat to human life and property. One way to mimic the affects of wildfire in these areas is through prescribed burns, logging practices, or a combination of both. Prescribed burns are preferable because they more closely match the affects of wildfires (release nutrients, warm the soil, leave standing dead trees and fallen dead trees for habitat. This is why prescribed fire is sometimes recommended after an area has been harvested for trees.
How do small scale periodic fires help prevent more intense, potentially damaging and dangerous fires from occurring?
Not all fires rip across the land burning everything in their path. In fact, how fires affect vegetation varies greatly depending on many factors. Fires often leave a mosaic pattern across the land, burning some areas thoroughly and hardly touching others. This leaves a discontinuous fuel source for future fires because now there are natural breaks in the vegetation that will slow or prevent the spread of future wildfires.
Who decides how to manage fires in Alaska?
The Alaska Wildland Fire Coordinating Group (AWFCG) oversees the coordination and direction of the interagency wildland fire management efforts in Alaska. See "Fire Mnagement" for details.
For more information about fire ecology contact: