Alaska Department of Fish and Game
---
Secondary Site Navigation
Fire Ecology in Alaska

Prescribed Burns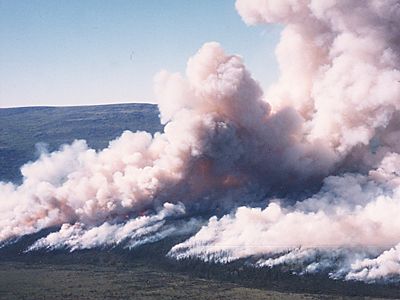 Prescribed burns are fires intentionally started under specific conditions to simulate wildfires. Prescribed burns are used as a management tool to enhance wildlife habitat. In some instances they are started to break up large expanses of black spruce forest or reduce the amount of fuel built up on the forest floor that could mean more intense and out of control fires in the future.
Many people do not understand the reasons that fire is so important to wildlife and react negatively to prescribed burns. After all, don't we already have enough fire and smoke to deal with in the Interior?
Smoke from wildfires may be an inconvenience to us in the summer time but consider it a unique aspect of living in the Interior within the boreal forest. This may be hard to do but when the smoke is in town try and think about the new habitat that is being created, the future growth, and the animals that will benefit. At least consider it a necessary evil. Here is why:
We know that disturbance to the boreal forest is necessary to maintain vegetative diversity and various stages of succession. This in turn creates various wildlife habitat which increases diversity and overall productivity of the ecosystem. When wildfires are not allowed to burn in the boreal forest an unnatural aging of the forest occurs. The habitat mosaic created by disturbance in the past is lost and species diversity and productivity go down. Continuous, old, even-age stands of timber are not productive to most wildlife species.
In the Tanana Valley, many areas are not allowed to burn by wildfires because of their potential threat to human life and property. One way to mimic the affects of wildfire in these areas is through prescribed burns, logging practices, or a combination of both. Prescribed burns are preferable because they more closely match the affects of natural wildfire. They release valuable nutrients locked up in the woody vegetation, warm the soil, leave standing dead trees (snags) that some wildlife make their home in and leave fallen dead trees that are also valuable to many species of wildlife. This is why prescribed fire may be done after an area has been harvested for timber.
Generally prescribed burns are implemented:
In areas off limits to natural fires to simulate natural disturbance of the boreal forest for enhancing wildlife habitat.
As a post logging treatment to return valuable nutrients to the soil and mimic the affects of wildfire as closely as possible.
Prescribed burns are designed for control of fire behavior including intensity, path, and smoke production.
Prescribed burns are usually conducted in mid to late summer, after the peak of wildfires in the Interior.
Summary of habitat enhancement projects accomplished July 1, 1995 – June 30, 2003
Job
No. of Sites Treated
No. of Acres Treated
Landscape-scale prescribed fire
5
89,541
Post-logging site treatment at timber sales
10
235
Aspen regeneration for ruffed grouse
57
675
Willow crushing for moose browse
28
696
Total
100
91,157
For additional information: Haggstrom, D.A. and Kelleyhouse, D.G. 1996. Silviculture and wildlife relationships in the boreal forest of Interior Alaska. The Forestry Chronicle, January/February 1996, Vo.72, No. 1 (PDF 1,937 kB)