Alaska Department of Fish and Game
---
Secondary Site Navigation
Fire Ecology in Alaska

Fire Basics
Fire Basics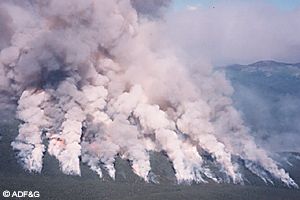 Fire burns hundreds of thousands of acres every year in Alaska. Lightening starts about 200 fires per year and humans cause approximately 400. How a fire burns, the threat it causes, and the damage or benefits resulting from the fire all depend on many factors. Some of these factors include the location of the fire, the weather conditions at the time of the fire, the time of year that the fire occurs, the forest type that is burning, and what management strategy is used to deal with the fire.
Fire itself is neither bad nor good, it is simply a natural occurrence in the boreal forest. In fact boreal forest has a burn cycle average of 200 years and some areas burn more frequently than that!
Obviously, fire can be dangerous to people and "destroy" some of our natural resources. The origin of our intensive fire suppression efforts in the U.S. actually stem from pressure applied on the government to protect property and resources from being destroyed. Until recently, all fires were managed by intense suppression efforts. It was not until biologists and fire ecologists realized the important role that fire actually plays in our system that management strategies became more adaptive to meet various management goals. Increasing costs of suppressing fires was also a major factor, particularly in remote areas. One interesting discovery was that by not allowing periodic fires to burn, fuel build up increased on the forest floor. The problem with allowing unnatural fuel buildup is that when a fire does start, the more fuel build up on the forest floor the more intense, potentially dangerous and out of control a fire can become.
No longer are fires viewed as bad. They are managed based on many factors. The priority remains to protect human life and property but the overall health of ecosystems is now considered. Defining the resource value at risk is also a step in setting fire management actions. Where they pose no threat to humans, many fires a left to burn.