Employee Spotlight

Division of Commercial Fisheries
Holly Krenz, Analyst Programmer IV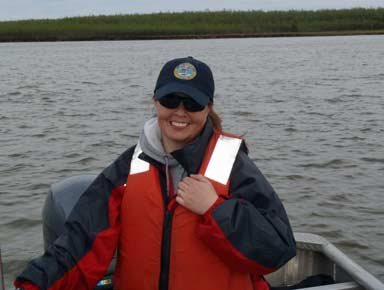 Education and Background
I have a BS in Microbiology from Montana State University and have taken many computer programming courses since. I started working for ADF&G, Division of Commercial Fisheries, in 1989 as a summer job and was hooked during those first few seasons working in Emmonak. I have been a Fish and Wildlife Technician, Data Processing Clerk, and Fisheries Biologist working for the department. I spent many years in the Lower Yukon and five years in Dutch Harbor before landing back in the AYK Region in my current position as an Analyst Programmer based out of Anchorage.
Where did you grow up in Alaska?
I grew up in Soldotna and thanks to my job, have seen many parts of Alaska.
Why did you pick this career?
Growing up in Soldotna and having the opportunity to fish and enjoy the outdoors had a big impact on my career choice. I was interested in fish from an early age, but could not have envisioned the journey and experiences that interest would afford. I enjoyed my duties as a Fisheries Biologist, but found that ADF&G's historical data was all over the place and needed to be captured in one place. Beginning about 10 years ago, I was able to gain further education in databases and programming and began to focus my work on capturing, archiving, and providing efficient access to the department's historical data.
What is the best part of your job?
The best part of my job is all the great friends I have made over the years and being able to support my co-workers. I also love that I can still get out in the field on occasion and put my biology skills to work.
What is the hardest part of your job?
The hardest part of my job is being stuck in the office on those great summer days.
Tell us something about your life outside of work - or what drives you as a person.
Outside work, my husband and I like to camp, fish, or just be outside. We also play hockey and compete in triathlons. When I'm not outside, I enjoy quilting, crocheting, and reading.
---
Katie Sechrist, Information Officer
Education and Background
I graduated from Chugiak High School in 1995 and in 2000 graduated with a bachelor's degree in Fisheries Science from UAF. While in college I worked for the Institute of Marine Science as a lab technician sorting benthic invertebrate for a Port Valdez monitoring project before I began working for the Alaska Department of Fish and Game in 1999 as a College Intern. Since then I have been fortunate to have traveled all over Alaska while working with ADF&G as a Fish and Wildlife Technician, and in my current position as Division of Commercial Fisheries Information Officer here in Anchorage.
What brought you to Alaska or where did you grow up in Alaska?
I'm Alaska spawned and was born and raised here. I was the first April Fool's day baby born in Anchorage in 1977 and grew up in Eagle River.
Why did you pick this career?
As long as I can remember I have always loved fish. Like most kids growing up here I was exposed to marine science and fisheries beginning early on in elementary school. My first grade teacher is a Cook Inlet Northern District set netter who shared her passion with her students. Then in 5th grade at marine science camp in Seward I discovered tide pooling and later on at age 14 caught the biggest fish of my life, a derby winning 220 lb halibut. After that, I was hooked.
What is the best part of your job?
The best part of my job are the fun and unique opportunities that come up, like creating the Wild Salmon on Parade and Reds on the Run salmon sculptures that I did in 2009 and 2011, and the chance to assist with field work, getting my hands dirty and playing with fish. I also enjoy participating and supporting department wide programs and events such as the Becoming an Outdoors Woman workshops. But the most rewarding part of my job is being part of a team of biologists and staff dedicated to the research and management of Alaska's commercial fisheries.
What is the hardest part of your job?
At times the hardest part of my job can be serving permit holders and public who do not like or understand commercial fisheries management and regulations and why they are important.
Tell us something about your life outside of work - or what drives you as a person.
As an only child I am very close with my parents who still live in Eagle River. Most of my hobbies include playing outside as much as possible, mountain biking, hiking, skiing, shooting sports, and of course, fishing and hunting. If the weather is too bad to go outside I enjoy beading, sewing, and painting.
---