Employee Spotlight

Boards Support
Nissa Bates Pilcher, Regional Regulatory Program Assistant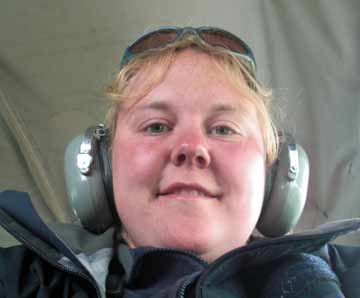 Education and Background
I have a bachelor's of science from the University of Alaska Fairbanks in Fisheries with a minor in Biology.
Where did you grow up in Alaska?
I was born at the hospital in Ketchikan, though I lived at a state run hatchery in Craig. We moved before I was one years old to Kasilof so my dad could work at the Crooked Creek Hatchery. Thirteen years later we moved again, this time to Wasilla so my father could work at the hatchery on Ft Richardson. When I graduated high school I moved to Fairbanks to attend UAF and was just about to move back to Southcentral when I met my husband. He is born and raised in interior, so it looks like I am not going anywhere for quite some time.
Why did you pick this career?
Technically I picked fisheries, and then fell in to this job.
Working as a Sport Fish technician, I would do anything that was needed to keep my job, and my paycheck, as long as possible. Eventually I ended up helping out with different administrative tasks in Sport Fish, Subsistence, and then even Boards, which helped me stand out when I applied for this position. I initially applied to work for Boards so I could justify getting to get paid to go out and fish all summer around the state, but luckily I ended up enjoying my work and really enjoying working with the other people who make up the Boards division.
What is the best part of your job?
I love helping people, and love traveling around the state. One thing that has changed since I first got this position is that since then I have become the mother to wonderful son and do not have the ability to travel as much as I originally did for Boards to different Advisory Committees all over Interior Alaska, which can make my position challenging at times, but I am making it work.
What is the hardest part of your job?
Leaving my opinion at the door. When I first took this position, I was talking to a person who use to hold this position and, during one of our first conversations, he gave me one of the most important pieces of advice I received. He told me to leave my personal opinion at home- it had no place at an Advisory Committee Meeting. This is not always easy, but essential for Advisory Committees to function the way they need to.
Tell us something about your life outside of work - or what drives you as a person.
My family drives me, and is inadvertently helping me to take a look some hobbies that I have let slip since I got out of college. I want to ensure that my son grows up in an environment that I did, and while he cannot grow up on site at a fish hatchery in rural Alaska, I am aiming at making sure he gets a chance to enjoy all of the experiences I did- hiking, skiing, camping, fishing, clamming, dip netting, and set netting to name a few among some of them. I also knit- if you can call it that- and read quite a bit in the winter…when I have time, and with a 22month old I don't have a lot of free time!
---
Sherry Wright, Regional Regulatory Program Assistant
Education and Background
I grew up in Oakland, Iowa, a small farming community. I went to Iowa Western Community College in Council Bluff, IA; the University of Minnesota, Minneapolis; and the University of Alaska Anchorage. I also have diplomas in modeling, secretarial science, and Biblical counseling, and have attended the Cal Winey Real Estate School and the Meeting Professionals International – Meeting Management Institute.
What brought you to Alaska or where did you grow up in Alaska?
I came to Alaska in 1985 because my brother Kent got hit by a train in Wasilla and was paralyzed from the neck down. Since I was the youngest and both my brothers were married with children, I was the natural choice. I came to help him, but the truth is Alaska has helped me in numerous ways. My life has been very blessed, first with meeting my husband Dan here, and the many opportunities I have had since coming here - getting more in touch with God both through my church and the beautiful nature He has created that surrounds us here.
Why did you pick this career?
My career path has been a scenic route – library assistant, lifeguard, restaurants – cooking, waiting tables, and management. Now I feel I am right where I am supposed to be.
What is the best part of your job?
I really enjoy working with the public on the resource issues that are so near and dear to Alaskans and getting to help people address their concerns.
What is the hardest part of your job?
One of the hardest things about the job is not having a lot of resources for our volunteer advisory committees to regularly travel to Board meetings. It's very difficult to have to tell people who are donating their time that we are limited in supporting them for all that they would like to do.
Tell us something about your life outside of work - or what drives you as a person.
Outside of work, I volunteer at the Anchorage Pregnancy Center, work with the youth at the Anchor Missionary Baptist Church, sing, ride my bike, kayak, and cross country ski. We just started a lunch ski group in the Anchorage office that is a great way to get a little sunshine during our dark winter months and enjoy the wonderful trails we have here in Anchorage. Life is good!