Reel Times Newsletter
February 2019
Issue 14
---
Fishing and family – Get Out and Fish. Together.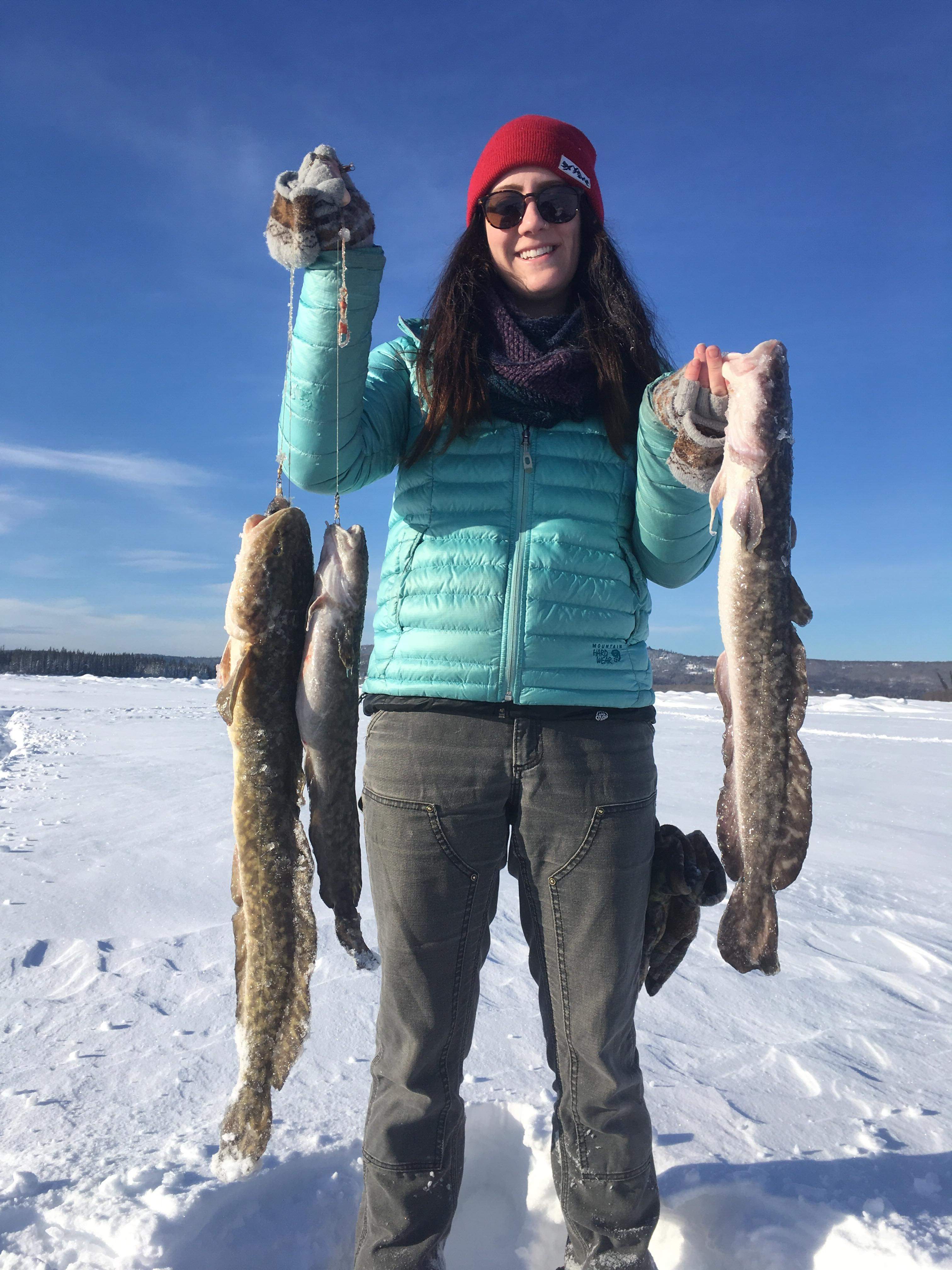 Fishing is an experience best enjoyed with family and friends. And as Alaskans are experiencing the full brunt of winter, it's only right that we focus on getting out to do some ice fishing together.
In this issue of Reel Times, we explore some ways for you and your family and friends to get outside and hit the hard water, specifically, where and how to fish for burbot. We also include a link to a video that shows how to clean a burbot.
Burbot are a species of interest to many anglers this time of year. Often called the "poor man's lobster" because of their taste, burbot can be targeted in various streams and lakes in Southcentral and Interior Alaska. These fish are exciting to target through the ice and make great table fare.
And, don't forget to check out our new monthly feature, a "fly of the month" video! This month we're highlighting an articulated flesh fly.
We hope your 2019 is off to a great start. Grab your ice fishing gear, a few family members or friends and get out and go fishing. But don't forget to purchase your 2019 sport fishing license before you head out!
If you have a comment or story ideas for Reel Times, we encourage you to send them our way. You can send comments to terry.thompson@alaska.gov.
We encourage you to share your fishing story on social media using #wefishak.
Tight lines!
Division of Sport Fish
Alaska Department of Fish and Game
Burbot Fishing in Alaska

The burbot is a fish with many names – lawyer, loache, eel pout, methy, lush, lingcod (not to be confused with lingcod found in saltwater), and mud shark, etc. Call them what you will, these fish are fun to target and are exceptional table fare.
Burbot are often targeted through the ice using set lines. However, anglers can catch burbot through the ice on rod and reel and using tip-ups.
Burbot are distributed in fresh waters throughout North America, Europe, and Asia with their range extending southward to about 40 degrees north latitude. They occupy many large clear and glacial rivers and many lakes throughout most of Alaska. However, burbot are absent from Southeast Alaska. The largest sport fisheries occur for burbot in the Tanana River, and lakes in the Upper Tanana, Upper Copper, and Upper Susitna river drainages.
Burbot are the only freshwater cod in North America. Burbot are a relatively long-lived and slow-growing species. In Alaska, burbot older than 20 years are not uncommon. It typically takes burbot five to seven years to reach 18 inches (46 cm) in length. This is also the length at which most Alaska burbot spawn for the first time. Burbot spawn under the ice in late winter (February to March) and will mill together, forming a large writhing ball while spawning. Eggs are very small (about 1 mm in diameter), and a large female burbot can produce over a million eggs. Burbot do not make nests to spawn, rather they broadcast spawn in the water column letting the eggs and milt free-fall to rest on the bottom.
Daryl Lescanec, a Division of Sport Fish Fisheries Biologist in Palmer, recently hosted a Fishery Forum presentation on targeting burbot in the Susitna River drainage. Daryl has spent countless hours targeting burbot through the ice on the Susitna River drainage and has developed a keen understanding of how to effectively target this fish.
You can view his PowerPoint presentation here: Link to PPT. If you are interested in other Fishery Forums, please make sure you are subscribed to receive Division of Sport Fish email notifications for the Anchorage area since the Fishery Forums are held at the William Jack Hernandez Sport Fish Hatchery in Anchorage.
Burbot Fishing on the Tanana River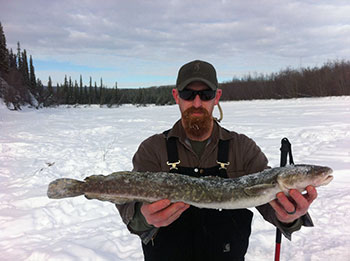 The Tanana River in Interior Alaska is a very popular location for anglers targeting burbot through the ice. The Tanana River is a 584-mile long tributary of the Yukon River and supports a large population of burbot. There are several access points to the Tanana River in and around Fairbanks where anglers can target burbot. The Division of Sport Fish website has a wealth of information about fishing for burbot on the Tanana River.
In addition, ADF&G produced a great "how-to video" detailing effective methods on how to target burbot through the ice on the Tanana River but these methods can be used on other lakes and rivers.
Check Out Our "How-to" Clean a Burbot Video!
After you have successfully caught a burbot or two, you will want to prepare these delicious fish for eating. The "How to Clean Burbot" video shows the technique for cleaning and filleting your catch. Then download ADF&G Burbot recipes for a variety of appetizing recipes.
Fly of the Month Video: Articulated Flesh Fly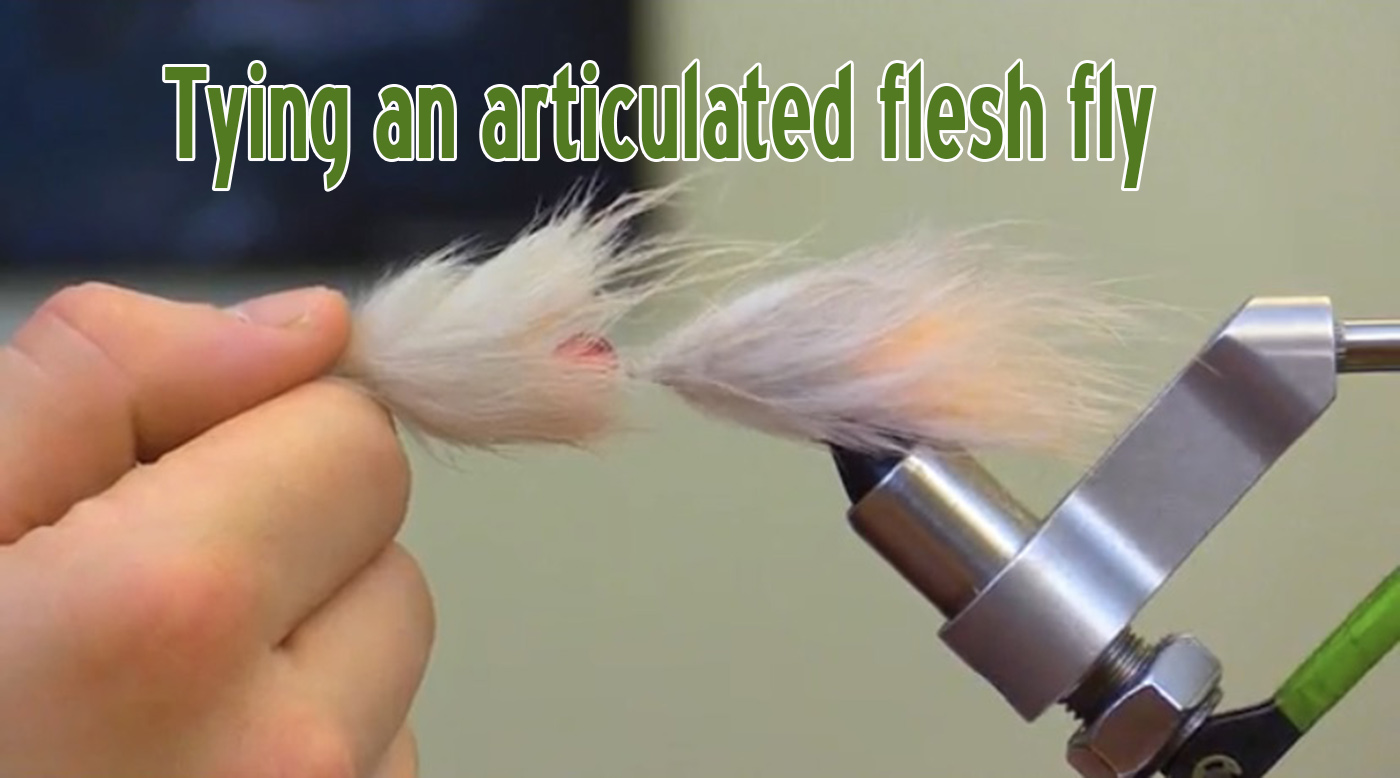 The articulated flesh fly is an effective pattern to use to target rainbow trout, Dolly Varden and other species in flowing waters where salmon carcasses are present. This pattern that can be tied in a multitude of colors ranging from pale, subdued colors, to bright orange.
Donny Arthur, a Fisheries Biologist with the Division of Sport Fish demonstrates how to tie this effective fly.
Reel Times Tip of the Month: Always Be Aware of Current Regulations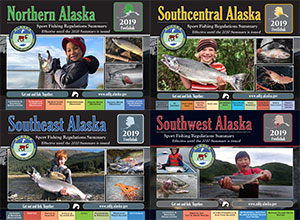 Always read and understand the regulations for the area you intend to fish before heading out. You can find the most current sport fish regulations posted online.
Emergency Orders: Be Aware of Any Inseason Changes to Regulations!
Regulations may be changed by emergency order at any time. If an inseason change has been made by emergency order for the species when and where you plan to fish, follow the inseason regulation change. Inseason regulatory changes prevail over the regulations list in the printed regulations.
You can sign up to receive emergency orders and news releases by email by subscribing to your specific area(s) of interest. Signing up is easy! Just go to www.wefishak.alaska.gov and select the Fishing Updates section.
Check Out Regional Updates!
Southeast Alaska - Winter Steelheading on the Situk River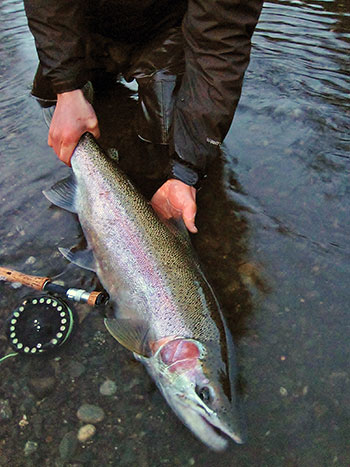 Many people have heard of the Situk River, located near Yakutat Alaska, that is home to more wild steelhead than any other known river in Alaska. Spring steelhead fishing on the Situk is legendary, but with a little luck and good planning fall and winter fishing can offer solitude, relaxation, and memorable trips that are well worth the angler's effort.
Fall and winter steelhead fishing on the Situk comes down to one thing: the weather. Generally, temperatures start to drop in northern Southeast Alaska in late October and November. The floods that dominate September and October begin to ease as the mountain snowpack locks up and upper watersheds begin to freeze. This seasonal transition coincides with the arrival fall run, or stream-maturing, steelhead back to the Situk. Of course, the only thing less predictable than the habits of wild steelhead is the weather of Southeast Alaska.
To have the best chance of finding and catching these fall and winter fish you should look for weather windows that will produce a specific set of stream conditions on the Situk. The U.S. Geological Survey gauging site on the Situk River at Nine Mile bridge will provide most of this information. Look for relatively low stream flows that will allow you effectively fish holding water, as well as, potentially spot fish; this will be anything around 300 to 400 cubic feet per second (CFS) and lower. Very low flow conditions can make fishing difficult because the fish are spooky and low water often coincides with very cold temperatures. As river and air temperatures approach freezing fishing becomes difficult and the fish become less active. Water temperatures above 36°F (2°C) should allow for some good fishing, the warmer the better.
Yakutat is a quiet place in the winter, but several small bed and breakfast and lodge operations are usually open throughout the fall and winter. The dedicated DIY angler can also camp or reserve one of the three U.S. Forest Service public use cabins on the river. Several guides also help clients chase steelhead on the Situk in the fall and winter, but options are limited. Finally, remember to check on snow conditions in Yakutat before your trip, during hard winters the roads to the river can be blocked by snow, leaving you stranded in town.
For anglers who can get themselves to Yakutat when conditions look good in the fall and winter, this is a unique opportunity to dodge the crowds and explore the wild Situk watershed on your own terms. Late-season coho and Dolly Varden fishing can diversify the trip, and any steelhead that are located have likely seen very little fishing pressure. So, keep an eye on the weather and for more information call the local Yakutat ADF&G Sport Fish biologist, Matt Catterson at 907-465-2810.
Southcentral Alaska – Fishing for Burbot in the Susitna and Yentna River Drainages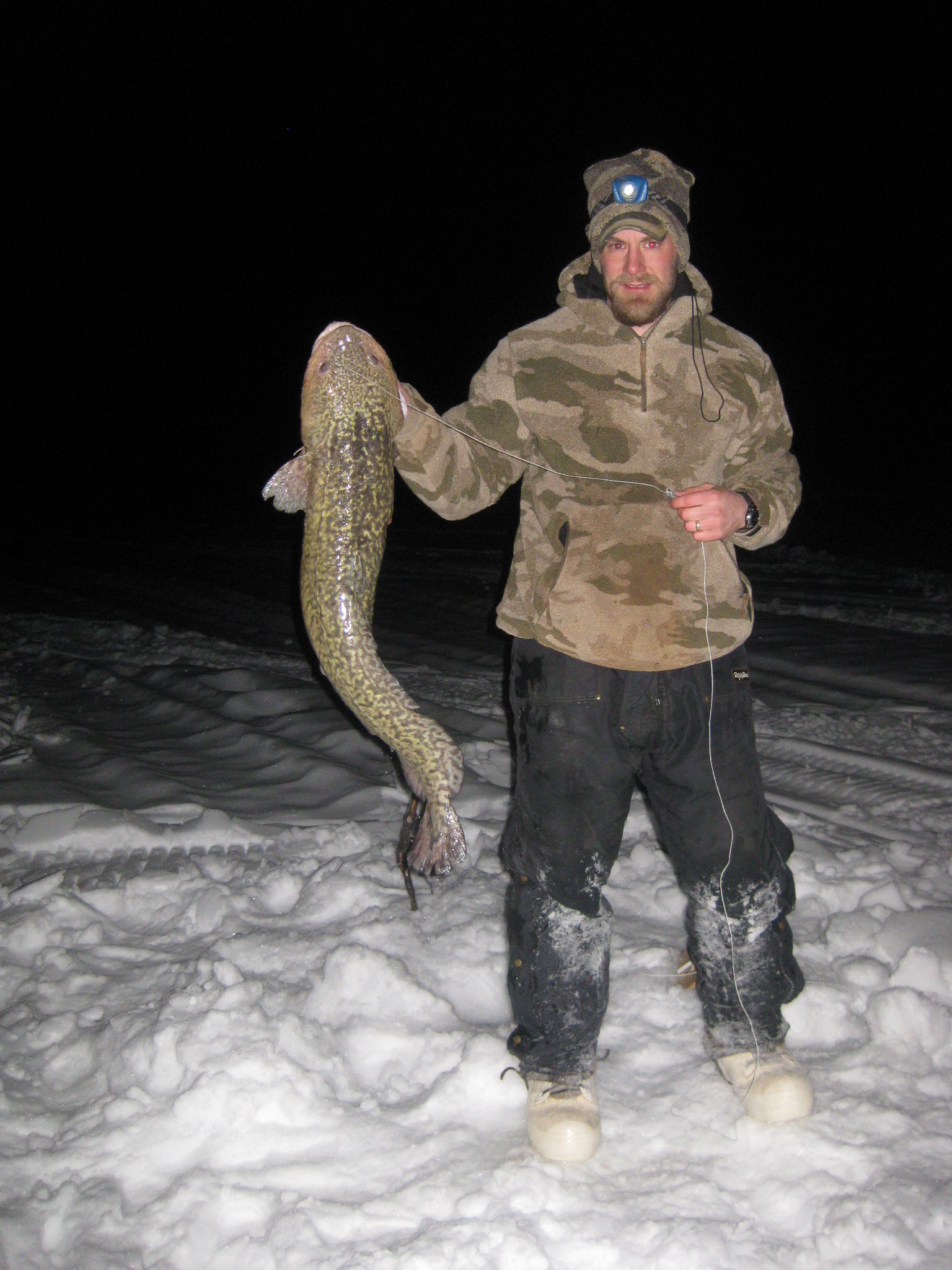 Burbot are fun to catch and great to eat. Winter is the optimal time to catch these night time feeders, and relatively little effort is needed especially where set lining is permitted, but rod and reel works just as well. In Southcentral Alaska, burbot can be found in the Susitna and Yentna River drainages. Anglers should focus their efforts on the mouths of creeks below confluences with rivers and sloughs, 1-3 feet of water along inside gravel bars (bends of rivers) and look for moving water such as eddies.
The top two spots that are vehicle accessible in the Palmer management area are Long Lake (Mile 86 Glenn Highway) and Big Lake. Anglers who are interested in burbot fishing on Big Lake, should take note and review Special Regulations, as bait is not allowed, only one unbaited, single-hook, artificial lure or fly is allowed through April 30. In addition, burbot fishing is closed from March 15-April 30. However, until then get out on that ice. Because bait is not allowed on Big Lake, anglers targeting burbot on this lake typically have luck using the old reliable rod and reel combo from sunset to sunrise. Make sure you are dressed warm and have access to a tent and heater. You want to drill holes near submerged islands near deep drop offs but make sure you drill a couple holes at various depths. Try using a ½ - ¾ ounce glow in the dark tub jig and jig at the bottom of the lake to stir up sediment and create a sound at the bottom for burbot to find the jig.
Where permitted, the preferred method to catch burbot is set lining; there is a strong line and pole set method. Set lining involves an angler setting bait on a fixed line at the bottom of the water which is anchored in some fashion outside the water (with either pole or piece of 2 x2 so that it can be checked) and leaving the line unattended for no more than 24 hours. Additional gear includes an auger, snow shovel, scoop, warm gear, set line hooks, and either a pole or strong line method. Your personal contact information must be attached to the set line. It's best to prepare your hooks (use single hooks with a gap between point and shank larger than ¾ inch), line, and weights before going out. Anglers can use a wide variety of bait (where its allowed); however, fresh fish baits have consistently been the most effective for anglers as burbot are predacious fish and won't feed on rotten food. Fresh fish bait includes whitefish, herring, squid, and hooligan. Burbot have very large mouths, so large pieces of bait should be used. Big bait catches bigger fish. The heads, tails, fins, and viscera of legally sport caught fish, such as salmon may be used as bait; however, you are not allowed to use the meat of any sport caught fish.
You want to clear snow from your site, drill a couple holes, and set your lines at various depths of water, such as shallow, medium, and deep. It is recommended that anglers use at least an 8-ounce weight to ensure their hook and bait sit on the bottom of the water on 30-foot heavy duty mainline and leader. Lower the line with your prepared leaders into the hole and make sure the weight rests on the bottom of the body of water. Make sure your name and address are attached to your set lines. After your line is secured across the top of the ice hole, pack a minimum 12-inch mound of snow over your hole to prevent the hole from freezing. Then mark your spot with another branch or flagging system to easily find your post. Be sure to check your set line within 24 hours.
Remember to review burbot regulations in the Southcentral Sport Fishing Regulations Summary booklet before heading out. And, don't forget your 2019 Sport Fishing annual license!
Interior Alaska – Lost Lake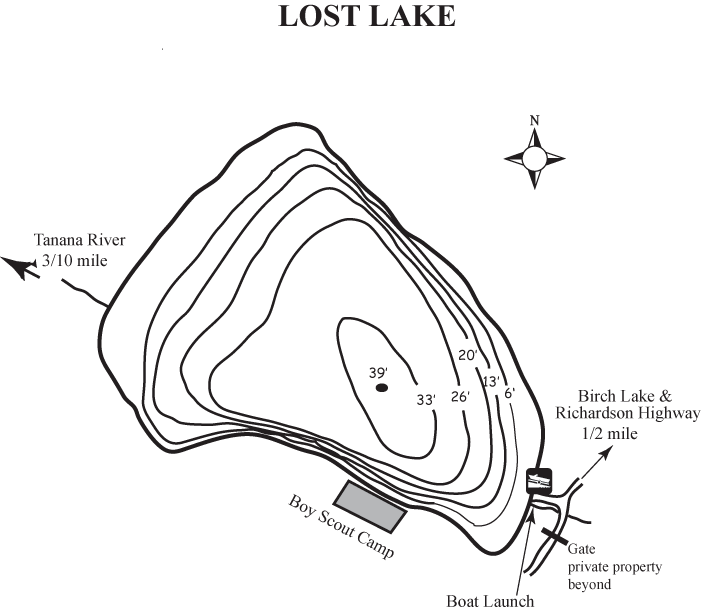 Lost Lake is a great lake to spend the day out ice fishing this winter! The lake is relatively large, covering 94 surface acres. Its maximum depth is 39 feet, making it a perfect lake for drilling holes in the winter. At about ½ mile in length, this productive little lake has only one basin.
ADF&G currently stocks Lost Lake with rainbow trout and Arctic char. Keep an eye out because there may be a few lake trout still swimming around from years past.
When ice fishing Lost Lake, bait is a great choice for attracting fish to your lucky spot. Try using squid, small pieces of nightcrawler, raw shrimp, or salmon eggs. If you'd rather use lures, lead-headed jigs, weighted/colored hooks, and small airplane jigs work well.
To get to Lost Lake from Fairbanks, take the Richardson Highway south to Birch Lake at mile 306. Turn right on Lost Lake Road. (Lost Lake Road is across from Birch Lake.) Go ¾ mile to the Lost Lake public boat launch where you can access the lake. Please be aware that the land around Lost Lake is all privately owned. Please respect these private land holdings and do not trespass.
Ice fishing tip: Keep the blades on your auger sharp. If the auger isn't working its way through the ice with relative ease, your blades are most likely dull. While drilling your ice hole, pull the auger up several times during the drilling to clear the hole of ice shavings. This helps prevent getting the auger stuck. Just before you break through the lower edge of the ice, remove the auger from the hole and shovel the ice shavings and snow, from around the ice hole. Return to the auger and punch the hole through the bottom of the ice. By clearing the ice shavings and snow from around the hole before it is soaked with the lake water, you have a flat, comfortable area from which to fish. If you shovel a wide enough area down to bare ice, you can cover your head with a heavy quilt and look down the ice hole. Light penetrates the ice that has been cleared of snow, and since you are under the blanket in the dark, you are able to see into the water and watch the fish as they investigate your bait.
Field to Plate - Recipe of the Month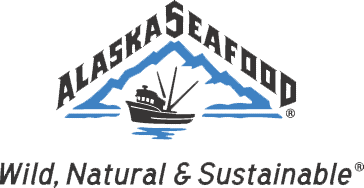 Give this recipe a try!
It's only fitting that the recipe of the month be a whole pamphlet specific to cooking up your catch of burbot. You can download the ADF&G Burbot Recipes pamphlet from the department website.
If you have any questions, please contact Terry Thompson at terry.thompson@alaska.gov