Alaska Department of Fish and Game
---
Most ADF&G website information and services will not be available on Sunday, October 11 as the State of Alaska will be doing planned maintenance in Juneau on that date between 5 am – 9 pm AKST.
Facebook
Twitter
Google+
Reddit

Anchorage Management Area

Fishing Information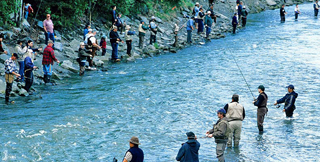 The Anchorage area includes all lakes and streams from Eklutna River (northern boundary) to Ingram Creek in Turnagain Arm (southern boundary). Anchorage is unique in the sport fishing world. Anglers can catch 20- to 30-pound king salmon and 8- to 10-pound silver salmon right in town. There's also excellent fishing for rainbow trout, Dolly Varden char, and Arctic grayling in area lakes and streams.
The majority of Anchorage-area sport fishing is the result of hatchery stockings. Though many streams within the Anchorage area support natural runs of one or all of the five Pacific salmon species, most of these native runs are too small to support sport fisheries. Check your regulation book carefully, or look at the quick guide on Page 7 of this handout, since many area flowing waters are closed to salmon fishing.
»Read More (PDF 747 kB)
Secondary Site Navigation
Sport Fishing
Alaska Department of Fish and Game
P.O. Box 115526
1255 W. 8th Street
Juneau, AK 99811-5526
Office Locations